Fall Orientation
Orientation aims to help your transitions to college life. This is your chance to meet your new classmates and the student Orientation Leaders, learn about Lehigh's academic and social expectations, and have fun! Below, you will find all of the information to make your Orientation experience and a successful one.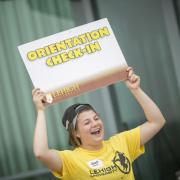 Important Dates Fall 2016
Prelusion: August 22-24, 2016 
Check-in 8am-10:30am
Move-in: August 25, 2016
Check-in 8:30am - 12:00pm
Orientation: August 25 - 28, 2016
First Day of Class: August 29, 2016
Camp Hawk: TBD
Past Orientation Schedules
The Family Orientation Schedule can be found on the Family Information page.
Move-In Day & Check-In
All first-year students must check-in for Orientation at Iacocca Hall on the Mountaintop Campus. At Orientation check-in you will receive your Orientation schedule, first semester course schedule and directions to your residence hall. You will not be permitted to check into your residence hall until you have checked-in for Orientation.
Need directions of how to get to campus for check-In? Directions to Mountaintop Campus.
Packing List:
If you're wondering what to bring with you as you arrive on campus. Here is a list of helpful items to consider. Remember, Residence Hall rooms are never as large as you imagine, do not over pack; you can always bring more things back with you next time you're visiting home.