Letter to Campus Community, 4/6/2020: Fostering your well-being in this new environment 
Dear Members of the Lehigh Community,

 

In addition to practicing positive health behaviors, as we continue to work and learn remotely, it is important to also focus on activities that promote good mental health and foster well-being. Being disconnected physically does not mean needing to be disconnected socially. This message includes resources for continuing to stay connected virtually.

 

For our students, please remember The Health and Wellness Center continues to be open and available to assist with students' health needs. If you have a medical concern or are feeling ill, please call us at 610-758-3870. Our clinical staff will complete a phone assessment with you to determine your needs and make recommendations for care. If you are having a medical emergency and you are on campus, call LUPD at 610-758-4200, and if you are off-campus, call 9-1-1.

 

If you find yourself feeling frightened, sad, or frustrated, we encourage you to reach out to those most familiar and close to you as well as offer to be there for others. In addition, if you think it might be helpful to talk things through with a counselor, we welcome you to contact our Office of Counseling and Psychological Services at 610-758-3880 or 610-758-5183. The center is open and counselors are available 24/7 to talk and provide support and assistance.

 

Please remember it takes all of us to help flatten the COVID-19 curve. We have still not reached the peak of the pandemic, and research is showing that social distancing is one of the most important tools at our disposal to save lives. If you are not in urgent need of supplies, stay home. Wash your hands and disinfect surfaces frequently. The CDC is now recommending that you wear a face mask voluntarily if it's necessary to go out in public, primarily for preventing spreading germs to others. This does not provide assurance against infection and does not mean you are safe to go about business as usual. Again, stay home as much as possible. These are important contributions you can make to help yourself and others remain safe and healthy.

 

Sincerely,

Lehigh University

Health and Wellness Center Team
Letter to Campus Community, 3/19/2020: Lehigh community and COVID-19
Dear Members of the Campus Community and Lehigh Families,

 

As shared by President Simon yesterday, we are working together as a community to mitigate the impact of COVID-19. As cases continue to be reported in communities around the country, we have been informed it has now impacted members of the Lehigh community.  

 

Two Lehigh students who were abroad have tested positive for COVID-19. The students traveled directly home without returning to campus.

 

Both students are at home in isolation, under the medical care of their health providers, and recovering.

 

As we wish these members of our community a speedy recovery, it's also a reminder for all of us, wherever we may be, to continue being vigilant in practicing good health habits, social distancing and other preventative measures to protect ourselves.

 

While the majority of students, faculty, and staff are working remotely, we are still working to support those remaining on campus, including approximately 230 students, and continue to take extra measures to sanitize surfaces and implement social distancing. We call on our Lehigh community to practice these clear and effective health-promoting behaviors as well. By taking these proactive measures, we can work collectively to reduce the potential for community spread of COVID-19 on our campus and in our communities.

 

You may continue to check our central webpage dedicated to Lehigh COVID-19 updates: https://www2.lehigh.edu/news/updates-on-novel-coronavirus

 

Sincerely,

University Leadership and Crisis Management Team
Letter to Campus Community, 3/18/2020: Room and board, remote operations, and other information
Dear Members of the Campus Community and Lehigh Families,

 

This communication includes an update on credits issued to student accounts for Lehigh housing and dining plans, new guidance on meeting size and remote work for faculty and staff, and other information.

 

Status of COVID-19 at Lehigh

| | |
| --- | --- |
| • | Nationally, there has been a focus on ensuring those who are exhibiting symptoms of COVID-19 have the ability to be tested. Our Health and Wellness Center is focusing efforts on providing this capacity on campus to students, and remaining in contact with members of our community who may be in the process of being tested elsewhere, through their healthcare provider/entity. We will continue to keep the community informed of any positive cases of COVID-19 reported to our Health & Wellness Center.   |

 

New Information

| | |
| --- | --- |
| • | Room and board- We will be issuing credits to student accounts for Lehigh on-campus housing and Lehigh dining plan costs on a prorated basis for the time period students are not living in residence halls or using meal plans. Details will follow in an email on Friday, including information regarding how individual amounts are calculated. Students will have the ability to request a refund or allow the credit to be applied to future bills.   |
| • | Remote coursework update– In this first week of classes in this new mode of teaching and learning, we recognize there are some bumps that need to be worked out with regard to live instruction, questions around grading policies, and others. These items are under active discussion and faculty and students can expect to receive additional guidance through email addressing these questions. At this time, we have decided to provide the option for students to take their courses on a credit or no-credit basis. Students who choose to take their courses for a grade may still do so. Additional guidance will be provided through email by Friday.   |
| • | Remote work– At this time, staff and faculty who are able to work remotely should do so. Only staff and faculty who are considered essential to University operations AND who cannot perform these functions remotely should be coming onto campus. As communicated previously, supervisors should communicate with staff about who is considered essential and how this work will get done. As information and guidance at the state and federal level continues to evolve, additional guidance will be provided as necessary. See below for additional information. |
| • | New group size guidance- At this time, all non-essential gatherings of 10 or more people are strongly discouraged until communicated otherwise. Organizers should postpone meetings and events, or consider remote technology. |
| • | Commencement - The manner and timing of how Lehigh Commencement will be held are still under discussion. An update will be communicated by early April. |

 

Students

•

Students remaining on or near campus- We want to acknowledge students' swift adaptation to an unforeseen set of circumstances and to provide specific guidance for those students who remain on or near campus for all or part of spring semester.

| | |
| --- | --- |
| • | Students who were granted permission to remain in on campus housing received guidance in an email sent on Tuesday, March 17. |
| • | If you are currently residing in off campus housing, we ask that you work with your families to return home, if at all possible. While university offices are currently accessible via LU ID card access during business hours, services are very limited as staffs have begun to transition to remote workplaces. If you must remain in off campus housing, the same social distancing directives and guidance apply (avoid group meetings or gatherings.) Please stay in your house or apartment if you can. If you are required to venture out, be vigilant about keeping as much distance from others as possible. |

•
Of course, you should continue to practice good hygiene as well, as recommended by the Centers for Disease Control: wash your hands regularly and thoroughly; avoid touching your mouth and nose with unwashed hands; cover your mouth when you sneeze or cough; stay home if you are sick. 

You can learn more here

.
•
We continue to monitor the evolving information from the CDC and Pennsylvania Department of Health (PA DOH) on COVID-19 and remain in communication with the PA DOH, the Bethlehem Health Bureau, and local healthcare entities, and in consultation with health experts, regarding recommendations for the safety of our campus community.
•
This is a difficult time, and we are all experiencing some degree of anxiety about what the weeks to come will hold. In the meantime, the responsibility to fight this virus is shared by us all, and we appreciate your partnership as we work to support the wellness of our campus and our community.

 

Parents

| | |
| --- | --- |
| • | As Lehigh moves to remote academic instruction, please encourage your students to practice social distancing in other ways as well - including limiting, or canceling entirely, social engagements, avoiding crowds, and ceasing unnecessary travel or contact that could put them or others at risk. |

 

Faculty/staff – Update from Chris Halladay, AVP of Human Resources

| | |
| --- | --- |
| • | Only staff who are considered essential to University operations AND who cannot perform these functions remotely should be coming onto campus. If you and your supervisor have determined you must be on campus, exercise good judgment in practicing social distancing and good hygiene, and please do not bring children or other visitors to campus. |
| • | Additional guidance for labs will be sent in a follow-up email. |
| • | Meetings and gatherings are limited to ten or fewer people. Organizers should postpone meetings and events and use remote technology (e.g., Zoom, conference calls) when possible. |
| • | Library and Technology Services offers workshops designed to help you continue your work from off campus. You may also refer to their guide for supervisors and staff regarding remote work. Read the guide for ensuring business continuity while working remotely. |
| • | We recognize this is a difficult time for faculty and staff who are needing to make many adjustments to not only their work but also their personal lives. Your Lehigh benefits include behavioral health coverage. To access these services under Lehigh's medical plan call the number listed on the back of your Capital Blue Cross Card. In addition, Lehigh's Employee Assistance Program (Integrated Behavioral Health) can be helpful regardless of whether you participate in the Lehigh medical plan. |

 

Modification of Services

•

Courier Services will modify its deliveries to accommodate the needs of individual departments beginning Wednesday, March 18, 2020, until further notice. If the university's plans change, it may reduce services to only support essential functions of Lehigh University. Please email Glenn Strause, Courier Services Manager, at ghs2@lehigh.edu if a department will be closed and working remotely. If Courier Services still has access to your building and mail drop, it will continue to deliver mail. It can also hold mail until contacted to resume service or until a pick up is arranged.

| | |
| --- | --- |
| • | Incoming USPS: If your USPS carrier can deliver incoming mail, the carrier will continue to do so. If the carrier cannot access your building, incoming mail will be given to Lehigh's couriers, who will then redeliver or hold the mail based on your request. |
| • | Incoming UPS and FedEx: Courier Services will have all campus deliveries rerouted to one central location, then deliver these packages based on your request. |

•
The Lehigh University Bookstore (including the café) will be closed beginning Wednesday, March 18, 2020, for two weeks. The Bookstore will reopen, unless otherwise directed, on Monday, March 30, 2020. While closed to the public, Bookstore staff will be available to answer questions, provide customer service support, and fulfill any online orders. (610) 758-3375; lehigh.bncollege.com

 

You may continue to check our central webpage dedicated to Lehigh COVID-19 updates: https://www2.lehigh.edu/news/updates-on-novel-coronavirus

 

Sincerely,

University Leadership and Crisis Management Team
Letter to Campus Community, 3/15/2020: United Kingdom and Ireland added to travel list 
 

Dear Members of the Campus Community and Lehigh Families,

As we communicated previously, to mitigate the risk of bringing COVID-19 to campus, all faculty, staff, students, and visitors who traveled to countries designated by the Centers for Disease Control and Prevention (CDC) as a "Warning Level 3" country should self-monitor for 14 days and be symptom-free before coming to campus.

 

Since we last communicated, the United Kingdom and Ireland were added to the Europe travel ban yesterday as stated by President Trump, "to take effect on Monday."  

 

In keeping with previous guidance, anyone coming from CDC Level 3-identified countries and President Trump's recent additions of the UK and Ireland to this travel ban, should self-monitor for 14 days before returning to campus.

 

The full list of countries is as follows: Austria, Belgium, China, Czech Republic, Denmark, Estonia, Finland, France, Germany, Greece, Hungary, Iceland, Iran, Ireland, Italy, Latvia, Liechtenstein, Lithuania, Luxembourg, Malta, Netherlands, Norway, Poland, Portugal, Slovakia, Slovenia, South Korea, Spain, Sweden, Switzerland, Monaco, San Marino, the United Kingdom, Vatican City

 

If you were planning on visiting campus to pick up items from your residence between now and March 16 at 5:00 p.m., have traveled to one of these countries, and are required to self-monitor for 14 days before coming to campus, you must now register with Housing Services for a later date by visiting your Housing and Dining Self-Service Page. Click on applications on the left side of the screen, then click on Move Out Form and fill out the request form.  Note: This form will only be visible to students.
Letter to Campus Community, 3/9/2020: Lehigh COVID-19 domestic travel and other updates
Dear Members of the Campus Community and Lehigh Families,

 

This email includes new guidance for domestic travel, hosting events, visitors to campus, human resource-related matters, and other information regarding Coronavirus Disease-2019 (COVID-19).  As we prepare for the conclusion of spring break, you can expect another message later this week with information on returning to campus.

 

Please remember we also have an informative FAQ and other resources posted on our central webpage dedicated to Lehigh COVID-19 updates, which is updated frequently: https://www2.lehigh.edu/news/updates-on-novel-coronavirus

 

Status of COVID-19 at Lehigh

| | |
| --- | --- |
| • | As of this date and time, there are NO SUSPECTED OR CONFIRMED CASES OF COVID-19 on our campus. |

 

New Information

•

Domestic Travel- As the instances of COVID-19 increase within the United States, U.S. officials are moving from focusing on the containment of the virus to mitigating its effect as it spreads. At this time:

| | |
| --- | --- |
| • | We strongly encourage you to reconsider all non-essential university-related domestic travel.  We will continue to monitor and provide updated guidance as needed. |
| • | We strongly encourage you to exercise caution and use your best judgment for your personal domestic travel. |

•

Events- We are working diligently to assess our regular operations and adjust as necessary, including the potential for remote work in all areas. At this time:

•

We are assessing our policy and anticipate announcing guidelines around holding events, particularly ones of significant size, later this week.

•

Although as of today we are not issuing restrictions for hosting events, we ask university hosts to think critically about whether the event is essential and whether it can be postponed.

•

For our athletics program and athletics events, directors across the league are in close contact with one another and evaluating the ongoing game schedules, with student safety being the priority.  

At this moment in time, there are no changes to the athletic schedule.

•

Visitors-

 We would ask all individuals to follow the guidance for hosting visitors for professional and social purposes outlined under the "Visitor Information" section below.

•

Human Resources-

 Please also review the section below with information specifically for supervisors, department heads, and employees.

 

Additional Travel Information

•

International travel-

 As of this date and time, the CDC recommends that travelers avoid all nonessential travel to China, Italy, Iran and South Korea (Warning Level 3) and recommends postponing nonessential travel for older adults and those with chronic medical conditions to Japan (Alert Level 2). CDC does not recommend canceling or postponing travel to Hong Kong (Watch Level 1).

•

Register your travel

- As shared in previous guidance, we are asking that all students traveling to areas the State Department has identified as "Warning Level 4", and the Centers for Disease Control and Prevention (CDC) has identified as "Warning Level 3" and "Alert Level 2," (check levels here, as they may change:

 https://www.cdc.gov/coronavirus/2019-ncov/travelers/index.html) to 

inform the Health and Wellness Center (HWC)

 

of your plans.

•

Self-monitor-

 All faculty, staff, and students returning from these areas are required to stay at home and self-monitor for 14 days before returning to campus. Students, faculty, and staff will be allowed to return to campus after a 14-day self-monitoring period.  During this period, individuals should monitor for fever, cough, or shortness of breath. Staff and Faculty will work with students who need to complete academic work remotely.

•

Faculty and staff have been advised not to travel on Lehigh business to CDC Alert Level 2, Warning Level 3, or State Department Warning Level 4 countries.

 

Infection Control

•

Campus staff are taking extra measures to sanitize surfaces and provide resources to prevent germs. We are placing additional hand sanitizers at the entrance to libraries, residence halls and dining facilities, completing extra cleanings of bathrooms and common spaces, and wiping down surfaces frequently. We are also stocking additional supplies such as sanitizers, soap, and paper towels. Over spring break, campus staff are using an electrolyzed all-natural, non-toxic water solution to clean throughout residence hall lounges, common areas and classrooms.

•

Please practice common-sense preventative measures such as washing your hands with soap and water for 20 seconds, avoiding close contact with people who are sick, avoiding touching your eyes, nose and mouth, staying home when you are sick, covering your cough with a tissue and throwing the tissue in the trash, and cleaning and disinfecting frequently touched objects and surfaces using a regular household cleaning spray or wipe.

•

Visit our FAQ to read about strategies for reducing the risk of infections: 

https://www2.lehigh.edu/news/updates-on-novel-coronavirus.

 

Visitors to Campus

•

We are strongly encouraging that any groups or departments on campus who receive or schedule visitors to campus to provide the following guidance:

•

Prospective visitors to campus who have been to any country the CDC has identified as Alert Level 2 (as of 3/9/20: Japan) or Warning Level 3 (as of 3/9/20: China, Iran, Italy, South Korea) are required to self-monitor for fever, cough, or shortness of breath and be symptom-free for at least 14 days before visiting campus. This requirement is in keeping with expectations also set for members of the Lehigh community. Note that the list of affected countries may change at any time; check the CDC website for updates: 

https://www.cdc.gov/coronavirus/2019-ncov/travelers/index.html

•

For the next month, please consider limiting the number of visitors you bring to campus for both professional and social purposes and continue to monitor these guidelines.

 

Human Resources

•

Supervisors and department heads-

| | |
| --- | --- |
| • | Please remind employees who are sick to remain at home. |
| • | Be flexible with providing work-at-home options, including for employees who need to care for children in the event of school closings. |
| • | If an employee has questions about whether they should stay at home and self-monitor or seek medical attention, please refer them to their family physician. |
| • | Please exercise your best judgment in making accommodations, and seek advice from Human Resources as needed. |

•

Staff-

| | |
| --- | --- |
| • | If you are sick, or have traveled to a Warning Level 3 or Alert Level 2 country and need to stay home to self-monitor, and/or if you have any questions regarding changing university-sponsored travel plans or your working arrangements, please communicate with your supervisor. |

 

Faculty, Teaching Fellows, Teaching Assistants, Graduate Assistants, and other Instructors

•

Please keep preparing for the possibility of moving your courses to distance learning models and note that given the quickly changing nature of the situation, you may not be given much advance notice if we need to move to online coursework.

•

Read the most recent update from Provost Farrell

.

 

Ongoing Planning

| | |
| --- | --- |
| • | Leaders across the university are continuing to plan for the short- and long-term actions we need to take to best support the health and wellness of our community. |
| • | Leaders are also working diligently to fine-tune plans for continuing university operations under adverse circumstances involving the need for remote work. |
| • | This proactive planning is not intended to, nor should it, cause alarm. These discussions are required to provide for the safety of our community and to minimize disruption to the important academic and other work at the university. |

 

You may continue to receive emails from individual offices on campus with specific guidance about actions you need to take to address your, and our community's, health and wellness. We recognize there is a great deal of information coming out frequently from various outlets, and we encourage you to continue monitoring your email for these important updates from Lehigh.

 

For more information, including answers to frequently asked questions,

visit: https://www2.lehigh.edu/news/updates-on-novel-coronavirus

 

Sincerely,

University Leadership and Crisis Management Team
Letter to Campus Community, 3/5/2020: COVID-19 update and NEW travel information 
Dear Members of the Campus Community,

This message includes information about the actions Lehigh is taking to keep campus healthy in regards to COVID-19 (Coronavirus Disease-2019) and NEW INFORMATION regarding spring break travel.

As of this date and time, there are NO SUSPECTED OR CONFIRMED CASES OF COVID-19  on our campus. Please remember we have a website dedicated to COVID-19 information that is updated frequently:
https://www2.lehigh.edu/news/updates-on-novel-coronavirus

Campus staff are taking extra measures to sanitize surfaces and provide resources to prevent germs. We are placing additional hand sanitizers at the entrance to libraries, residence halls and dining facilities, completing extra cleanings of bathrooms and common spaces, and wiping down surfaces frequently. We are also stocking additional supplies such as sanitizers, soap, and paper towels. Over spring break, campus staff will also be using an electrolyzed all-natural, non-toxic water solution to clean throughout residence hall lounges, common areas and classrooms.

As we approach spring break, President Simon and Health & Wellness (HWC) Center Executive Director David Rubenstein shared travel guidance last week (https://www2.lehigh.edu/news/22820-important-information-regarding-spring-break-travel-and-covid-19) that we encourage you to read if you haven't done so, as it includes important information for you to consider as you make travel plans. 

As stated, we are asking that all students traveling to areas the State Department has identified as "Warning Level 4", and the Centers for Disease Control and Prevention (CDC) has identified as "Warning Level 3" and "Alert Level 2," (check levels here: https://www.cdc.gov/coronavirus/2019-ncov/travelers/index.html) to inform the Health and Wellness Center (HWC) of your plans.

NEW INFORMATION: If you plan to travel to these areas, you can now register your travel with the Health and Wellness Center using this link: https://lehigh.co1.qualtrics.com/jfe/form/SV_0U4JA6FDt8BEhZb

Based on the information that you provide, the HWC will send you an email with instructions for self-monitoring of symptoms. Upon returning to the US from any country that is identified as a State Department Warning Level 4 or CDC Warning Level 3 or Alert Level 2, you will need to return home or to a location off-campus for 14 days. 

During this period, students should stay home and self-monitor for fever, cough, or shortness of breath. The HWC will be in contact with you to review your self-monitoring reporting once you have returned to the United States.  At the end of the 14-day period, the HWC will review your symptoms and health status and make a determination about your return to campus. Staff, faculty and instructors will work with students who need to complete academic work remotely during this time.

As previously mentioned, we are expecting that, as responsible community members, if these criteria apply, that individuals will uphold these requirements and do their part in ensuring the health and safety of our community.

Although COVID-19 updates continue to dominate the news, we want to remind our community that we are seeing a significant number of students with the flu. Please remember to take precautions to prevent the spread of flu, including getting a yearly flu shot and practicing good hand hygiene.

Students who have not received the flu shot yet this season can take advantage of the free flu shots provided by our Health and Wellness Center: https://studentaffairs.lehigh.edu/content/health-wellness-center. If you are sick, please stay home and contact your professors to ensure your ability to keep up with your coursework.

For more information, including answers to frequently asked questions, visit: https://www2.lehigh.edu/news/updates-on-novel-coronavirus


Sincerely,

Lehigh University

Health and Wellness Center Team
Letter to Campus Community, 2/28/2020: Important information regarding spring break travel and COVID-19
Dear Members of the Campus Community,

 

Reports of the spread of COVID-19 continue to dominate the news, causing understandable concerns and questions. At Lehigh, we are taking measures to prepare and provide for the safety of our students, faculty, and staff.

 

At the highest levels across the university, we are actively monitoring the situation and seeking the most current information and health expertise to inform our guidance, recognizing that the situation is fast-moving and fluid. A group of senior leaders has established ongoing meetings to ensure Lehigh's short- and long-term preparedness. Our Health and Wellness team also continues to be in frequent communication with the Pennsylvania Department of Health (PA DOH), the Bethlehem Health Bureau, and local healthcare entities regarding their recommendations, and is reviewing guidance provided by the Centers for Disease Control and Prevention (CDC) and the World Health Organization (WHO).

 

As of this date and time, there are NO SUSPECTED OR CONFIRMED CASES OF COVID-19 on our campus. The university senior leadership and medical professionals in the Lehigh University Health and Wellness Center (LU HWC) continue to monitor the COVID-19 outbreak and to provide updates through email and the Lehigh website.

 

At Lehigh, we embrace the global nature of our community and programs and we recognize that in situations such as this we must make preparations for events and contingencies on campus and also for our community members who travel away from campus.

 

As we approach spring break, please be sure to thoroughly review the important travel guidance included in this message.

 

Travel information

 

We recognize that some students are returning from study abroad programs or have travel plans for spring break and wanted to provide those students with guidance. To mitigate the risk of COVID-19 on our campus, we are requiring all students before returning to campus from spring break or study abroad travel from countries the CDC has identified as "Warning Level 3" and "Alert Level 2," as outlined below, to:

 

| | |
| --- | --- |
| 1. | Upon return to the U.S., contact the LU HWC at 610-758-3870 to review recent travel history and current symptoms for follow-up guidance; and |
| 2. | Self-monitor for 14 days before returning to campus. Students will be allowed to return to campus after a 14-day self-monitoring period.  During this period, students should monitor for fever, cough, or shortness of breath. The HWC will be in contact with you as soon as possible to review your self-monitoring activities once we are notified you are returning to the United States (610-758-3870).  HWC will review your health status/symptoms and make a determination about your return to campus. Staff and Faculty will work with students who need to complete academic work remotely. |
| 3. | Please be aware that countries designated by the CDC as Warning Level 3 and Alert Level 2 may change at any time. |

 

As of this date and time, the CDC recommends that travelers avoid all nonessential travel to China and South Korea (Warning Level 3) and recommends postponing nonessential travel for older adults and those with chronic medical conditions to Iran, Italy, and Japan (Alert Level 2). CDC does not recommend canceling or postponing travel to Hong Kong (Watch Level 1). Other Destinations with Risk of Community Spread are: Singapore, Thailand, Taiwan. Community spread means people have been infected with the virus, including some who are not sure how or where they became infected. At this time, the extent of virus spread is not sustained or widespread enough to meet the criteria for a travel health notice.

 

This continues to be a rapidly evolving situation and recommendations are subject to change. As individuals make their spring break plans, please be aware that although you may be able to leave the U.S. and go to other countries, there is always the possibility that you may experience difficulty returning depending on how this situation evolves. Travelers should refer to the CDC website for the most up-to-date information: https://www.cdc.gov/coronavirus/2019-ncov/travelers/index.html.  International students have received additional guidance from the International Students and Scholars Office (ISS) office, and we are reminding students to closely read that guidance.

 

The Lehigh Study Abroad Office has been in direct and regular communication with our students who are currently studying abroad, and their families, regarding ongoing guidance. The safety of our community members is a priority.

 

The university has suspended summer programs in China and South Korea. We continue to monitor the spread of the virus in other countries and remain in direct communication with our students currently abroad, as well as their families, regarding current guidance. We are also working directly with our study abroad partner programs to be informed of their decisions regarding their programs and assist students with plans that will enable them to complete the academic semester in the event their study abroad program is interrupted. As some of our students choose to voluntarily return home from their study abroad programs, the Health and Wellness Center is working with the Study Abroad Office to evaluate students before they return to campus.

 

We are aware there have been instances in which people from some of the affected countries, or those who have recently visited them have been stigmatized, and we want to remind you that we are a diverse community that values all of our members.

 

The health and safety of our community members is our priority. We will continue to keep you updated and informed regarding this constantly evolving situation.

 

Sincerely,

John D. Simon '19P

President

 

David Rubenstein

Executive Director of the Health and Wellness Center
Letter to Campus Community, 2/20/2020: Health Update on COVID-19 / Novel Coronavirus
Dear Members of the Campus Community,

The university senior leadership and medical professionals in the Health and Wellness Center continue to monitor the COVID-19 (2019 Novel Coronavirus) outbreak and to provide updates.

As of this date and time, there are NO SUSPECTED OR CONFIRMED CASES OF COVID-19 (2019 NOVEL CORONAVIRUS) on our campus.

We continue to monitor the evolving information from the CDC and Pennsylvania Department of Health (PA DOH) on COVID-19 and remain in communication with the PA DOH, the Bethlehem Health Bureau, and local healthcare entities, and in consultation with health experts, regarding
recommendations for the safety of our campus community.  The CDC continues to believe and report that the immediate risk of this new virus to the American public is low.

As a reminder, on February 11, The World Health Organization (WHO) changed the name of 2019-nCov to COVID-19 so that it would not refer to any specific geographical location, animal, or group of people. As shared in an earlier message, at Lehigh we embrace that we live in a global community. Disease knows no borders (https://www.cdc.gov/cpr/whatwedo/global.htm) and has no preference for nationality. We must continue to practice our value as an equitable community while we work together to keep our campus safe and healthy.

We respect the privacy rights of our students, faculty, staff, and community members and will continue to balance our responsibilities under the privacy laws and the public health laws as we manage this ongoing situation.   As noted in previous updates, any student who comes to the Health and Wellness Center with fever and respiratory symptoms, in addition to routine medical assessment, is also evaluated regarding recent travel history, possible contacts with a person with known or suspected COVID-19, and health status, as per Centers for Disease Control and Prevention (CDC) guidelines. 

As noted, we understand that frustration and apprehension are natural responses to new and evolving health events such as these, and we continue to be grateful for the community's remarkable understanding and cooperation as we respond to the evolving health guidance and information surrounding the outbreak. We also want to acknowledge that this is also a uniquely difficult time for our community members who may be worried about friends and family who live in or near regions affected. Our thoughts continue to be with them.

Although COVID-19 updates continue to dominate the news, we want to remind our community that we are seeing a significant number of students with the flu. Please remember to take precautions to prevent the spread of flu, including getting a yearly flu shot, and practicing good hand hygiene. Students who have not received the flu shot yet this season can take advantage of the free flu shots provided by our Health and Wellness Center (https://studentaffairs.lehigh.edu/content/health-wellness-center). If you are sick, please stay home and contact your professors to ensure your ability to keep up with your coursework (read the message sent to faculty on February 7:)

https://www2.lehigh.edu/news/2720-novel-coronavirus-and-student-absences-from-class


Visit the website to read the latest updates and to find additional resources, including answers to frequently asked questions:
https://www2.lehigh.edu/news/updates-on-novel-coronavirus.

The Health and Wellness Center is open:
Monday - Thursday, 8:15 am - 4:00 pm and Friday, 9:15 am - 4:00 pm.

There are two ways to make appointments at Lehigh's Health & Wellness Center:

1.  Make an online appointment with one of the Health and Wellness Center nurses online at least one hour and up to one week in advance by clicking on the patient portal and following the simple instructions. Appointments can be made through the portal 24/7/365 and is quick, simple, and convenient.  If students require treatment by one of our physicians or nurse practitioners, that will be arranged at the time of the nursing appointment. Please call us if you are unable to find an online appointment, especially if your concern is of an urgent nature.

2.   Call 610-758-3870 during office hours to schedule an appointment. 

*Please be advised we are an appointment-based office. We prioritize walk-ins with emergent issues and will do our best to accommodate you in a timely manner.   

After-hours and on weekends, please call 610-758-3870 to talk with the HWC clinician-on-call. The Counseling Center is also available for support and can be reached at 610-758-3880, Mon. - Fri. 8am-5pm. Overnight on-call crisis services are also available and students can be connected to a clinician calling this same number.

Sincerely,

Lehigh University

Health and Wellness Center Team
Letter to Campus Community, 2/13/2020: Health Update on Novel Coronavirus
Dear Members of the Campus Community,

The university senior leadership and medical professionals in the Health and Wellness Center continue to monitor the 2019 Novel Coronavirus (2019-nCoV) outbreak and to provide updates.

As of this date and time, there are NO SUSPECTED OR CONFIRMED CASES OF 2019-NOVEL CORONAVIRUS on our campus.

We continue to remain in constant communication with the Pennsylvania Department of Health (PA DOH), the Bethlehem Health Bureau, and local healthcare entities, and in consultation with health experts, regarding recommendations for the safety of our campus community.

On February 11, The World Health Organization (WHO) changed the name of 2019-nCov to COVID-19 so that it would not refer to any specific geographical location, animal, or group of people. As shared in an earlier message, at Lehigh we embrace that we live in a global community. Disease knows no borders (https://www.cdc.gov/cpr/whatwedo/global.htm) and has no preference for nationality. We must continue to practice our value as an equitable community while we work together to keep our campus safe and healthy. We respect the privacy rights of our students, faculty, staff, and community members and will continue to balance our responsibilities under the privacy laws and the public health laws as we manage this ongoing situation.

We understand that frustration and apprehension are natural responses to new and evolving health events such as these, and we have been grateful for the community's remarkable understanding and cooperation as we respond to the evolving health guidance and information surrounding the outbreak. We also want to acknowledge that this is also a uniquely difficult time for our community members who may be worried about friends and family who live in or near regions affected. Our thoughts continue to be with them.

Although 2019-nCoV/COVID-19 updates continue to dominate the news, we want to remind our community that we are seeing an uptick in cases of the flu. Please remember to take precautions to prevent the spread of flu, including\ getting a yearly flu shot, and practicing good hand hygiene. Students who have not received the flu shot yet this season can take advantage of the free flu shots provided by our Health and Wellness Center (https://studentaffairs.lehigh.edu/content/health-wellness-center). If you are sick, please stay home and contact your professors to ensure your ability to keep up with your coursework (read the message sent to faculty on February 7:
https://www2.lehigh.edu/news/2720-novel-coronavirus-and-student-absences-from-class).


As noted in previous updates, any student who comes to the Health and Wellness Center with fever and respiratory symptoms, in addition to routine medical assessment, is also evaluated regarding recent travel history, possible contacts with a person with known or suspected 2019 nCoV/COVID-19, and health status, as per Centers for Disease Control and Prevention (CDC) guidelines.

Visit the website to read the latest updates and to find additional resources, including answers to frequently asked questions:
https://www2.lehigh.edu/news/updates-on-novel-coronavirus.

The Health and Wellness Center is open:

Monday - Thursday, 8:15 am - 4:00 pm and Friday, 9:15 am - 4:00 pm.

After hours and on weekends, please call 610-758-3870 to talk with a clinician-on-call. The Counseling Center is also available for support and can be reached at 610-758-3880, Mon. - Fri. 8am-5pm. Overnight on-call services are also available and students can be connected to a clinician calling this same number.

Sincerely,

Lehigh University

Health and Wellness Center Team
Letter to Campus Community, 2/5/2020: Health Update on Novel Coronavirus
Dear Members of the Campus Community,

The university senior leadership and medical professionals in the Health and Wellness Center continue to monitor the 2019 Novel Coronavirus (2019-nCoV) outbreak and to provide updates.

New guidance from The Pennsylvania Department of Health (PA DOH) now recommends that any person who traveled to mainland China or Hubei Province for the preceding 14 days--regardless of whether or not they are experiencing symptoms--should remain in isolation, either at home or in a comparable setting, avoid congregate settings, and limit public activities.

For individuals that fall into this category, the PA DOH has identified the Bethlehem Health Bureau as the public health entity responsible for developing a plan and the oversight of self-monitoring, checking in with students, and making any referrals for healthcare and travel. Students who fall into this category should contact Stephanie Oakley at the Bethlehem Health Bureau at her direct line at 610-997-7909. The Health and Wellness Center will continue to communicate with the Bethlehem Health Bureau to ensure continuity of care for our students. In addition, the Health and Wellness Center continues to work closely with the Office of International Affairs to identify and work with any students who fall into this category.

It's important to note that as of this date and time, there are NO SUSPECTED OR CONFIRMED CASES OF 2019-NOVEL CORONAVIRUS on our campus.

We continue to remain in constant communication with the PA DOH, the Bethlehem Health Bureau, and local healthcare entities and in consultation with health experts, both internally and externally, to ensure our timely responsiveness to these evolving guidelines and recommendations for the safety of our campus community.

We respect the privacy rights of our students, faculty, staff, and community members and will continue to balance our responsibilities under the privacy laws and the public health laws as we manage this evolving situation. We live in a global community. Disease knows no borders and has no preference for nationality (https://www.cdc.gov/cpr/whatwedo/global.htm). We must continue to practice our value as an equitable community while we work together to keep our campus safe and healthy.

As noted in previous updates, any student who comes to the Health and Wellness Center with fever and respiratory symptoms, in addition to routine medical assessment, is also evaluated regarding recent travel history, possible contacts with a person with known or suspected 2019-nCoV, and health status, as per Centers for Disease Control and Prevention (CDC) guidelines.

Although 2019-nCoV updates continue to dominate the news, we are reminding people that we are in the midst of influenza season and recommend precautions to prevent the spread of flu, including getting a yearly flu shot, and practicing good hand hygiene. Students who have not received the flu shot yet this season can take advantage of the free flu shots provided by our Health and Wellness Center (https://studentaffairs.lehigh.edu/content/health-wellness-center).

Questions and Answers:

What is the university doing to be vigilant?

We continue to work closely with the Pennsylvania Department of Health (PA DOH), the Health Bureau of the City of Bethlehem, and local healthcare partners and are following all recommendations and guidelines for the management and well-being of our students, staff, and faculty. As noted above, given that we are in the midst of influenza (flu) season, we continue to advise the campus community to follow standard recommendations for the prevention of flu and other respiratory viruses. Additional guidance can be found below.

As previously communicated, the university has decided to suspend summer programs in China. This suspension will not extend to other programs abroad, including those in other parts of Asia and Pacific Rim. We will continue to monitor the situation and provide ongoing guidance to students and families as this situation evolves. We will also follow CDC recommendations to keep the campus healthy in respect to scheduled international visitors coming to our campus.

Should I participate in campus activities and events?

Individuals without any symptoms can continue to participate in campus events. The university, following guidance from the PA DOH, CDC and World Health Organization (WHO), has not canceled any activities or events due to the current 2019 Novel Coronavirus concerns.

Should we be using masks?

Masks are not recommended at this time for students, staff, and faculty who are not experiencing fever or respiratory symptoms.

Will Lehigh screen every person who has recently been in China and those with whom they have been in contact?

Lehigh University is following current PA DOH, CDC, and WHO guidelines on all screening and response protocols. These protocols may continue to evolve as new information regarding the 2019 Novel Coronavirus becomes known.

What should I do if I believe I have Novel Coronavirus?

These criteria have evolved. Up-to-date criteria are available at:
https://www.cdc.gov/coronavirus/2019-ncov/about/steps-when-sick.html

If you are a student and experiencing symptoms you believe are in line with 2019 Novel Coronavirus, please consult with the Health and Wellness Center or your own physician immediately. If you have a fever or have a cough, you should remain home, and minimize your exposure to others, and call our Health and Wellness Center or your healthcare provider for additional guidance.

The University also has a strong partnership with local health care providers, such as nearby St. Luke's University Health Network, who are available to provide emergency medical evaluation and treatment as necessary. Before you go to a doctor's office or emergency room, call ahead and tell them about your recent travel and your symptoms.

The Health and Wellness Center is open Monday - Thursday, 8:15 am - 4:00 pm and Friday, 9:15 am - 4:00 pm. After hours and on weekends, please call 610-758-3870 to talk with a clinician-on-call. Our clinical staff can assess your particular history and symptoms and make recommendations.

Important standard recommendations to prevent the spread of respiratory infections include:

If you are sick - stay home and avoid contact with others.

Do not travel while you are sick.

Cover your mouth and nose with a tissue or your sleeve (not your hands) 

when coughing or sneezing.

Wash hands often with soap and water for at least 20 seconds. Use an 

alcohol-based hand sanitizer if soap and water are not available.

Get your yearly flu shot - although there is no vaccine for the 2019 Novel 

Coronavirus, the flu shot provides critical protection against influenza.


The CDC reports symptoms of 2019 Novel Coronavirus may appear in as few as two days or could take as long as 14 days after exposure.

The CDC recommends everyday preventative measures to prevent the spread of respiratory viruses including:

Get your annual flu vaccine (the Health and Wellness Center still has free 

flu shots).

Wash your hands often with soap and water for at least 20 seconds.

If soap and water are not available, use an alcohol-based hand sanitizer.

Avoid touching your eyes, nose, and mouth with unwashed hands.

Avoid close contact with people who are sick.

Stay home when you are sick.

Cover your cough or sneeze with a tissue, then throw the tissue in the 

trash.

Clean and disinfect frequently touched objects and surfaces.


What is a coronavirus? How is it transmitted?

Coronaviruses are a large family of viruses that are common in many different species of animals, including camels, cattle, cats, and bats. Rarely, animal coronaviruses can infect people and then spread between people such as with MERS and SARS. When person-to-person spread has occurred with MERS and SARS, it is thought to have happened mainly via respiratory droplets produced when an infected person coughs or sneezes, similar to how influenza and other respiratory pathogens spread.

It's important to note that how easily a virus spreads person-to-person can vary. Some viruses are highly contagious (like measles), while other viruses are less so.

How is the Novel Coronavirus treated?

There is no specific antiviral treatment recommended for 2019-nCoV infection. People infected with 2019-nCoV should receive supportive care to help relieve symptoms.

What if I have additional questions?

The information that exists about Novel Coronavirus continues to evolve. We will continue to provide updates as we learn of them, and you can also continue to check the below resources.

 Additional resources:

The Health and Wellness Center hours are Monday - Thursday, 8:15 am - 4:00 

pm and Friday, 9:15 am - 4:00 pm. After hours and on weekends, please call 

610-758-3870 to talk with a clinician-on-call. Our clinical staff can 

assess your particular history and symptoms and make recommendations.

The Health and Wellness Center has free flu shots available for students. 

Call or visit the website to schedule an appointment. 

Staff in the Counseling Center are aware that for some students, fear and 

anxiety about becoming sick can disrupt sleep, studying, and finding 

pleasure in being with friends. They also know that sharing the thoughts 

and feelings associated with those concerns, with a person willing to 

listen, can often be quite helpful in getting back to normal routines. 

Counselors are available and welcome and invite students to call the center 

to schedule an appointment to help address their concerns, anxiety and 

coping. The University Counseling Center can be reached at 610-758-3880, 

Mon. - Fri. 8am-5pm. Overnight on-call services are also available and 

students can be connected to a clinician calling this same number.

Visit the CDC for additional information about the Novel Coronavirus 

(

https://www.cdc.gov/coronavirus/2019-ncov/index.html

).

For more information about flu and other respiratory illnesses, please 

visit: 

https://www.cdc.gov/flu/index.htm

 and 

https://www.cdc.gov/features/rhinoviruses/

.


The Health and Wellness Center will continue to review and monitor the situation and update students and staff as new information becomes available. Ongoing updates will be published to the university website.

Sincerely,

Lehigh University

Health and Wellness Center Team
Letter to Campus Community, 2/2/2020: Health Update on Novel Coronavirus
Dear Members of the Campus Community,


The university senior leadership and medical professionals in the Health and Wellness Center have been monitoring the 2019 Novel Coronavirus (2019-nCoV) outbreak since it emerged, and continue to do so.

As of this date and time, there are NO SUSPECTED OR CONFIRMED CASES OF 2019-NOVEL CORONAVIRUS on our campus. 

As mentioned in previous campus health updates, the Health and Wellness Center has reached out to the Office of International Affairs to ensure ongoing communication with international students.

Given the evolution of the outbreak, the university has decided to suspend summer programs in China. This suspension will not extend to other programs abroad, including those in other parts of Asia and Pacific Rim. We will continue to monitor the situation and provide ongoing guidance as the situation evolves. We will also follow Centers for Disease Control (CDC) recommendations to keep the campus healthy in respect to scheduled international visitors coming to our campus. As we take these prudent measures, we remain an institution that deeply values its global partnerships, our ongoing commitment to diversity, and the vital contributions of community members who come from around the world. We also respect the privacy rights of our students, faculty, staff, and community members and will continue to balance our responsibilities under the privacy laws and the public health laws as we manage this evolving situation.     


Any student who presents to the Health and Wellness Center with fever and respiratory symptoms, in addition to routine medical assessment, is also evaluated regarding recent travel history, possible contacts with a person with known or suspected 2019-nCoV, and health status, as per CDC guidelines. If you are a student, staff or faculty, the CDC recommends avoiding all non-essential travel to China.

Questions and Answers:

What is the university doing to be vigilant?

We continue to work closely with the Pennsylvania Department of Health (PA DOH), the Health Bureau of the City of Bethlehem, and local healthcare partners and are following all recommendations and guidelines for the management and wellbeing of our students, staff, and faculty. Given that we are in the midst of influenza (flu) season, we continue to advise the campus community to follow standard recommendations for the prevention of flu and other respiratory viruses. Additional guidance can be found below.

As noted above, the university has decided to suspend summer programs in China. This suspension will not extend to other programs abroad, including those in other parts of Asia and Pacific Rim.  We will continue to monitor the situation and provide ongoing guidance to students and families as this situation evolves. We will also follow CDC recommendations to keep the campus healthy in respect to scheduled international visitors coming to our campus.

Should I participate in campus activities and events?

Individuals without any symptoms can continue to participate in campus events. The university, following guidance from the PA DOH, CDC and World Health Organization (WHO), has not canceled any activities or events due to the current 2019-novel Coronavirus concerns.

Should we be using masks?

Masks are not recommended at this time for students, staff, and faculty who are not experiencing fever or respiratory symptoms.

Will Lehigh screen every person who has recently been in China and those with whom they have been in contact?

Lehigh University is following current CDC and WHO guidelines on all screening and response protocols. These protocols may continue to evolve as new information regarding the 2019-novel Coronavirus becomes known.

What should I do if I believe I have novel Coronavirus?

These criteria have evolved.  Up-to-date criteria are available at
https://www.cdc.gov/coronavirus/2019-ncov/hcp/clinical-criteria.html.
If you are a student and experiencing symptoms you believe are in line with 2019-novel Coronavirus, please consult with the Health and Wellness Center or your own physician immediately. If you have a fever or have a cough, you should remain home, and minimize your exposure to others, and call our Health and Wellness Center or your healthcare provider for additional guidance.

The University also has a strong partnership with local health care providers, such as nearby St. Luke's University Health Network, who are available to provide emergency medical evaluation and treatment as necessary. Before you go to a doctor's office or emergency room, call ahead and tell them about your recent travel and your symptoms.

The Health and Wellness Center is open Monday - Thursday, 8:15 am - 4:00 pm and Friday, 9:15 am - 4:00 pm. After hours and on weekends, please call 610-758-3870 to talk with a clinician-on-call. Our clinical staff can assess your particular history and symptoms and make recommendations.

Important standard recommendations to prevent the spread of respiratory infections include:

If you are sick - stay home and avoid contact with others.

Do not travel while you are sick.

Cover your mouth and nose with a tissue or your sleeve (not your 

hands) when coughing or sneezing.

Wash hands often with soap and water for at least 20 seconds. Use 

an alcohol-based hand sanitizer if soap and water are not available.

Get your yearly flu shot - although there is no vaccine for the 

2019-novel Coronavirus, the flu shot provides critical protection against 

influenza.

The CDC reports symptoms of 2019-novel Coronavirus may appear in as few as 

two days or could take as long as 14 days after exposure. Visit the CDC 

website for additional guidance:

https://www.cdc.gov/coronavirus/2019-ncov/about/steps-when-sick.html

The CDC recommends everyday preventative measures to prevent the spread of respiratory viruses including:

Get your annual flu vaccine (the Health and Wellness Center still 

has free flu shots).

Wash your hands often with soap and water for at least 20 seconds.

If soap and water are not available, use an alcohol-based hand 

sanitizer.

Avoid touching your eyes, nose, and mouth with unwashed hands.

Avoid close contact with people who are sick.

Stay home when you are sick.

Cover your cough or sneeze with a tissue, then throw the tissue in 

the trash.

Clean and disinfect frequently touched objects and surfaces.


What is a coronavirus? How is it transmitted?

Coronaviruses are a large family of viruses that are common in many different species of animals, including camels, cattle, cats, and bats. Rarely, animal coronaviruses can infect people and then spread between people such as with MERS and SARS. When person-to-person spread has occurred with MERS and SARS, it is thought to have happened mainly via respiratory droplets produced when an infected person coughs or sneezes, similar to how influenza and other respiratory pathogens spread.

It's important to note that how easily a virus spreads person-to-person can vary. Some viruses are highly contagious (like measles), while other viruses are less so.

How is the novel Coronavirus treated?

There is no specific antiviral treatment recommended for 2019-nCoV infection. People infected with 2019-nCoV should receive supportive care to help relieve symptoms.

What if I have additional questions?

The information that exists about novel Coronavirus continues to evolve. We will continue to provide updates as we learn of them, and you can also continue to check the below resources.

Additional resources:

The Health and Wellness Center hours are Monday - Thursday, 8:15 am 

- 4:00 pm and Friday, 9:15 am - 4:00 pm. After hours and on weekends, 

please call 610-758-3870 to talk with a clinician-on-call. Our clinical 

staff can assess your particular history and symptoms and make 

recommendations.

The Health and Wellness Center has free flu shots available for 

students. Call or visit the website to schedule an appointment. 

Staff in the Counseling Center are aware that for some students, 

fear and anxiety about becoming sick can disrupt sleep, studying, and 

finding pleasure in being with friends. They also know that sharing the 

thoughts and feelings associated with those concerns, with a person willing 

to listen, can often be quite helpful in getting back to normal routines. 

Counselors are available and welcome and invite students to call the center 

to schedule an appointment to help address their concerns, anxiety and 

coping.  The University Counseling Center can be reached at 610-758-3880 

Mon. - Fri. 8am-5pm.  Overnight on-call services are also available and 

students can be connected to a clinician calling this same number.

Visit the CDC for additional information about the novel 

Coronavirus.

For more information about flu and other respiratory illnesses, 

please visit: 

https://www.cdc.gov/flu/index.htm and

https://www.cdc.gov/features/rhinoviruses/.

The Health and Wellness Center will continue to review and monitor the situation and update students and staff as new information becomes available. Ongoing updates will be published to the university website.


Sincerely,

Lehigh University
Health and Wellness Center Team
Letter to Campus Community, 1/24/2020: Campus Health Update
Dear Members of the Campus Community


The Center for Disease Control and Prevention (CDC) continues to actively monitor and manage the 2019 Novel Coronavirus (2019-nCoV) outbreak in Wuhan, China.  As of this date and time, there are NO CASES OF NOVEL CORONAVIRUS on our campus.  The Lehigh University Health and Wellness Center continues to be in daily communication with the Pennsylvania Department of Health (PA DOH) Bureau of Epidemiology (and they with the CDC), the Bethlehem Health Bureau and other local healthcare entities to ensure ongoing appropriate evaluation, management, and coordination of care for our students.

As mentioned in our previous campus health update, the Health and Wellness Center has reached out to the Office of International Affairs to ensure ongoing communication with international students, as well as to reach out to students from Wuhan City, China to assess recent travel and health status.  Additionally, any student who presents to the Health and Wellness Center with fever and respiratory symptoms, in addition to routine medical assessment, are also evaluated regarding recent travel history, possible contacts with a person with known or suspected 2019-nCoV, and health status, as per CDC guidelines.  If you are a student, staff or faculty, the CDC recommends avoiding all non-essential travel to China as they are currently under a Warning Level 3 Advisory.

If you have traveled to the city of Wuhan, China over Winter Break and have any symptoms of fever, cough, shortness of breath OR if you have had close contact with a person who is under investigation for the novel Coronavirus or who has been diagnosed, please call the Health and Wellness Center so that our clinical staff can assess your particular history and symptoms and make recommendations.  The Health and Wellness Center is open Monday - Thursday, 8:15am - 4:00pm and Friday, 9:15am - 4:00pm, after-hours and weekends, please call 610-758-3870 to talk with a clinician-on-call.   

The Health and Wellness continues to see many students with respiratory and flu-like symptoms that can include fever, body aches, headache, cough, sore throat, stuffy nose, and fatigue. Viruses that cause colds and the flu can spread from infected people to others through the air and through close personal contact. You can also get infected through contact with stool or respiratory secretions from an infected person. This can happen when you shake hands with someone who has a cold or flu, or touch a surface, like a doorknob, that has respiratory viruses on it, then touch your eyes, mouth, or nose.  Following the health-conscious behaviors above will help to keep you healthy. 

The CDC recommends everyday preventative measures to prevent the spread of respiratory viruses including:

Get your annual flu vaccine (the Health and Wellness Center still 

has free flu-shots) 

Wash your hands often with soap and water for at least 20 seconds.

If soap and water are not available, use an alcohol-based hand sanitizer.

Avoid touching your eyes, nose, and mouth with unwashed hands.

Avoid close contact with people who are sick.

Stay home when you are sick.

Cover your cough or sneeze with a tissue, then throw the tissue in 

the trash.

Clean and disinfect frequently touched objects and surfaces.


For additional information about the novel Coronavirus, please visit this link:
https://www.cdc.gov/coronavirus/2019-ncov/index.html
For more information about flu and other respiratory illnesses, please visit:
https://www.cdc.gov/flu/index.htm
https://www.cdc.gov/features/rhinoviruses/.
https://www.thoracic.org/patients/patient-resources/resources/adenovirus.pdf


The Health and Wellness Center will continue to update the campus community as needed given this evolving health situation.

Sincerely,

Lehigh University
Health and Wellness Center Team
Letter to Campus Community, 1/24/2020:  Update on Cold and Flu Season
Dear Members of the Campus Community





As you may be aware, the Centers for Disease Control and Prevention (CDC) 

continues to monitor the 

2019 Novel Coronavirus, Wuhan, China outbreak (2019-nCoV).   





As with many rapidly evolving situations, it is important to have accurate 

and clear health information available. As of this date and time, there are 

NO CASES OF NOVEL CORONAVIRUS on our campus. The Health and Wellness 

continues to see many students with respiratory and flu-like symptoms, but 

NO CASES OF NOVEL CORONAVIRUS.





The Health and Wellness Center has reached out to the Office of 

International Affairs to ensure ongoing communication with international 

students, as well as to identify any students who are from Wuhan City, 

China (who we are specifically reaching out to).  For students presenting 

to the Health and Wellness Center with fever and respiratory symptoms, in 

addition to routine medical assessment, we are also asking about recent 

travel history, possible contacts with a person with known or suspected 

2019-nCoV, and health status, as per CDC guidelines.   





We have been in regular and close contact with the Pennsylvania Department 

of Health (PA DOH) Bureau of Epidemiology and they, in turn, are in close 

contact with the CDC.  In addition, we are coordinating with the Bethlehem 

Health Bureau and other local healthcare entities to ensure appropriate 

evaluation, management, and coordination of care for our students.





For additional information about Coronavirus, please visit this link:


https://www.cdc.gov/coronavirus/2019-ncov/index.html



It is also important to remember that we are in the midst of influenza 

(flu) season. As stated, there are a high number of cases of influenza in 

the local community, as well as on the Lehigh University campus. Influenza 

is a viral illness that typically causes fever, body aches, headache, 

cough, sore throat, stuffy nose, and fatigue. It can be difficult to 

determine if an illness is typical "flu" just based on symptoms.





If you have not had the flu shot yet this year (since August 1, 2019), 

please get the flu shot. Currently the Health and Wellness Center has free 

flu shots available.





The Health and Wellness Center will continue to update the campus community 

as needed given this evolving health situation.





Sincerely,





Lehigh University




Health and Wellness Center Team
Letter to Campus Community, 1/22/2020:  

A Message Regarding Flu and Virus Season

 
Dear Members of the Campus Community,


As we start up our Spring semester, the Lehigh University Health and Wellness Center (HWC) would like to remind students that we continue to be in the midst of cold and flu season.  The local community has been seeing a high number of cases of influenza this winter.  The CDC recommends a yearly flu vaccine as the first and most important step in protecting against flu viruses. It is not too late to get a flu shot this year, so if you have not had your flu shot, please come in to the HWC to get yours.

As you may be aware, there is an outbreak of a novel Coronavirus in Wuhan City, China (named 2019-nCoV), but cases have been identified in other areas of China and the world.  Symptoms include fever and symptoms of lower respiratory illness (cough, difficulty breathing).  Per current recommendations from the CDC and Pennsylvania Department of Health, criteria for evaluating persons in the United States for 2019-nCoV include:
1) persons who have fever AND symptoms of lower respiratory illness (e.g., cough, difficulty breathing) AND in the last 14 days before symptom onset have either a history of travel from Wuhan City, China or who have had close contact with a person who is under investigation for 2019-nCoV while that person was ill and 2) persons with fever OR symptoms of lower respiratory illness (e.g., cough, difficulty breathing) AND in the last 14 days have had close contact with a person who has laboratory-confirmed 2019-nCoV.

This will likely continue to be an evolving investigation with evolving recommendations as this is a fluid situation.   We have been in contact with the PA Department of Health regarding this situation and are continuing to monitor recommendations from the CDC and PA Department of Health.

At this time if any student who has traveled to Wuhan City, China has any symptoms of fever or respiratory symptoms, please contact the LU HWC to be seen for evaluation.  The HWC will follow guidance from the CDC and PA DOH in evaluating patients.

Additional Information is available at the following link: 
https://www.cdc.gov/coronavirus/2019-ncov/index.html

Sincerely,
Lehigh University
Health & Wellness Center Team
Letter to Campus Community, 1/22/2020:  Recall on Medication 
Dear Members of the Campus Community,

We are writing to let you know that the Lehigh University Health and Wellness Center recently received correspondence from Glenmark, a distributor of ranitidine (Zantac), informing us of a voluntary recall of this product.

This product, which the Health and Wellness Center has used, is commonly employed to reduce the amount of acid in the stomach. Since receiving notification of the recall of this medication, the Lehigh University Health and Wellness Center has pulled all ranitidine from our inventory.
 

If this is a product you take, we encourage you to discontinue its use, and to reach out to us so that we can assist with consideration of alternative products. You can also consult with your personal health care provider for further recommendations. If you have ranitidine in your possession, please do not take it and dispose of it appropriately. (The LUPD installed a drug drop-off box in the lobby of their headquarters at 321 Packer Ave.).


Currently there are no recommendations for specific monitoring or follow up for persons who have taken ranitidine. If you seek medical care for any medical reason, please let your health care provider know you are or were taking ranitidine.

More information about this can be found at this link:
https://www.fda.gov/safety/medical-product-safety-information/zantac-ranitidine-safety-information-ndma-found-samples-some-ranitidine-medicines.


Sincerely,

Lehigh University
Health and Wellness Center   
Letter to Campus Community, 11/23/19:  Health Advisory on Acute Respiratory Illness
Dear Members of the Campus Community,

We continue to be in the midst of cold and flu season in our community.  In follow-up to a campus wide email on November 4th, we continue to see cases of Adenovirus on our campus.  

Adenovirus is a type of virus that can cause a variety of illnesses including upper and lower respiratory tract infections, gastrointestinal infection, neurological infection and eye infection.  There are many distinct types of adenovirus.  Typically symptoms are relatively mild, and can present as an upper respiratory tract infection, similar to the "common cold" with cough, fever, and sore throat. People with adenovirus infections can also involve the lower respiratory tract (bronchitis or pneumonia), eyes (conjunctivitis or "pink eye"), gastrointestinal tract (diarrhea) , liver (hepatitis) or brain (encephalitis).

Most infections are mild and will go away without any treatment.  There is no specific treatment for adenovirus infections.  Rarely a person can have a severe illness or death.

Symptoms "mimic" other acute respiratory illnesses.  Diagnosis of adenovirus infection is made by obtaining a nasal swab sample and sending it to a lab for specific adenovirus testing.

The most important measures to prevent spread of adenovirus infection to others is frequent hand washing with soap and water and avoiding touching your eyes, nose and mouth with unwashed hands. Adenovirus can survive on surfaces (such as door knobs, furniture, tables, utensils) for up to 30 days. In addition, adenovirus is a fairly "hardy" virus and is not readily killed with many typical disinfectants. Bleach-containing products should be used for cleaning.  

It is important for people who are ill to "self-isolate" and avoid close contact with others.  People with adenovirus infection can continue to shed virus for days to weeks, even after feeling well.

For additional specific information about Adenovirus Infections and outbreaks go to the following link:

https://www.thoracic.org/patients/patient-resources/resources/adenovirus.pdf

Sincerely,

Lehigh University Health and Wellness Team
Letter to Campus Community, 11/4/19:  Health Advisory on Acute Respiratory Illness
Dear Members of the Campus Community,

 

This is a reminder that we are once again in the midst of cold and flu season in our community. The 'common cold' is often caused by viruses such as Rhinovirus, Respiratory Syncytial Virus (RSV), Parainfluenza Virus and Adenovirus.  We have had several Adenovirus cases on our campus.  It is important to remember that there are many, many strains of Adenovirus and, that while most of the strains cause relatively mild symptoms, certain strains have been associated with more severe infections.

The CDC recommends a yearly flu vaccine as the first and most important step in protecting against flu viruses. It is not too late to get a flu shot this year.

The Lehigh University Health & Wellness Center (HWC) continues to partner with the Pennsylvania Department of Health in their Influenza-Like Illness Surveillance Program. The HWC routinely sends samples from our students to the state for virus identification. The HWC continues to be diligent and aggressive with infection surveillance on our campus.

What to Expect

Most people get colds and the flu in the winter and spring, but it is possible to get these infections any time of the year. Symptoms can include:

fever
sore throat
runny nose
coughing
sneezing
headaches
body aches

Most people recover from these infections within 7-10 days. However, people with weakened immune systems, asthma, or other chronic or medical conditions may develop more serious illness.

How to Protect Yourself

Viruses that cause colds and the flu can spread from infected people to others through the air and through close personal contact. You can also get infected through contact with stool or respiratory secretions from an infected person. This can happen when you shake hands with someone who has a cold or flu, or touch a surface, like a doorknob, that has respiratory viruses on it, then touch your eyes, mouth, or nose. You can help reduce your risk of getting these infections:

Get vaccinated against the Flu! Flu vaccination can reduce flu illnesses, doctors' visits, and missed work and school due to the flu, as well as prevent flu-related hospitalizations. Unfortunately there is no vaccine available to protect you against the viruses that cause the common cold
Wash your hands often with soap and water. Wash them for 20 seconds. If soap and water are not available, use an alcohol-based hand sanitizer. Viruses that cause respiratory infections can live on your hands, and regular handwashing can help protect you from getting sick
Avoid touching your eyes, nose, and mouth with unwashed hands. Viruses that cause respiratory infections can enter your body this way and make you sick
Stay away from people who are sick. Sick people can spread viruses that cause these infections through close contact with others

How to Protect Others

If you have a cold or the flu, you should follow these tips to help prevent spreading it to other people:

If you are sick with cold or flu symptoms, CDC recommends that you stay home for at least 24 hours after your fever is gone (without the use of a fever-reducing medicine), except to get medical care or for other necessities
Avoid close contact with others, such as hugging, kissing, or shaking hands
Move away from people before coughing or sneezing
Cough and sneeze into a tissue then throw it away, or cough and sneeze into your upper shirt sleeve, completely covering your mouth and nose
Wash your hands after coughing, sneezing, or blowing your nose
Disinfect frequently touched surfaces and objects such as keyboards and doorknobs

How to Feel Better

There is no cure for a cold or the flu. To feel better, you need to get plenty of rest and drink a lot of fluids
Over-the-counter medicines may help ease many symptoms
If you are diagnosed with the flu, you may be prescribed antiviral medications such as Tamiflu. Antiviral drugs can make flu illness milder and shorten the time you are sick. They may also prevent serious flu complications\

For more information, please visit

https://www.thoracic.org/patients/patient-resources/resources/adenovirus...

 and the CDC's website on the flu: https://www.cdc.gov/flu/index.htm and on

the common cold: https://www.cdc.gov/features/rhinoviruses/.

 

Sincerely,

Lehigh University

Health & Wellness Center Team
Letter to Campus Community, 10/31/19:  Health Advisory on Hand, Foot and Mouth Disease (HFMD)
Dear Members of the Campus Community,

We are writing to make you aware that the Lehigh University Health and Wellness Center has been seeing cases of Hand, Foot, and Mouth disease (HFMD), which is a common viral illness that usually affects infants and children younger than five years old. It can also occur in older children and adults. The infection usually starts with a fever, sore throat, malaise (general feeling of being unwell), decrease in appetite, followed in 1-2 days by appearance of painful sores in the mouth and a non- itchy rash, which characteristically appears on the palms and soles of the feet, but may be on any part of the body. The sores that appear in the back of the mouth can blister and can be quite painful and may make it uncomfortable to eat and drink, making dehydration a common complication. Symptoms typically resolve in 7-10 days without medical treatment.

Complications are uncommon, but if high fever persists or the condition worsens, the affected individuals should seek medical care.

HFMD is caused by viruses that belong to the Enterovirus group, most commonly Coxsackievirus A16. These viruses can be found in an infected person's nose and throat secretions (saliva, sputum or nasal mucus), in blister fluid and in feces.

The disease can be spread through direct personal contact, infected air (when an infected person coughs or sneezes), contact with feces (from the unwashed hands of an infected person) and contact with contaminated objects and surfaces.

Outbreaks can occur when individuals are gathered in residence halls or locker rooms, and are not uncommon on college campuses. Methods used to prevent the spread of the disease include frequent handwashing with soap and water – particularly after using the restroom – and cleaning and regularly disinfecting frequently touched surfaces such as doorknobs, refrigerator handles, keyboards and electronic devices. Experts also suggest avoiding close personal, physical contact (such as hugging and kissing) and avoiding the sharing of eating utensils or drinks.

You can read more about HFMD at
https://www.cdc.gov/hand-foot-mouth/index.html.

Generally, a person with hand, foot, and mouth disease is most contagious during the first week of illness. People can sometimes be contagious due to continued shedding of the virus in feces for days or weeks after symptoms go away. Some people, especially adults, may become infected and not develop any symptoms, but they can still spread the virus to others. This is why people should always try to maintain good hygiene, such as frequent handwashing, so they can minimize their chance of spreading or getting infections. The viruses are "hardy" and can survive up to two weeks on surfaces, so cleaning contaminated surfaces with soap and water and then disinfecting them with a dilute solution of chlorine-containing bleach may help prevent spread of the virus.

Although there is no vaccine to prevent the disease, or a specific treatment for hand, foot and mouth disease, there are several things that you can do to relieve symptoms. These include taking over-the-counter medications to relieve pain and fever with either ibuprofen (Advil) or acetaminophen (Tylenol). You can also use salt water rinses, mouthwashes or over-the-counter throat sprays that numb mouth pain.

If you have any questions or concerns or would like to schedule an appointment, please contact the Lehigh University Health & Wellness Center at 610-758-3870.

 

Sincerely,

Lehigh University

Health and Wellness Center Team
NEXT STUDENT FLU IMMUNIZATION CLINICS
October 23, Wednesday 2nd floor UC 4:30-6:30pm
November 13, Wednesday  STEPS atrium 11am-1pm
Please Bring Insurance Card.  Most Insurance Accepted.  $35 Cost if Insurance Does Not Cover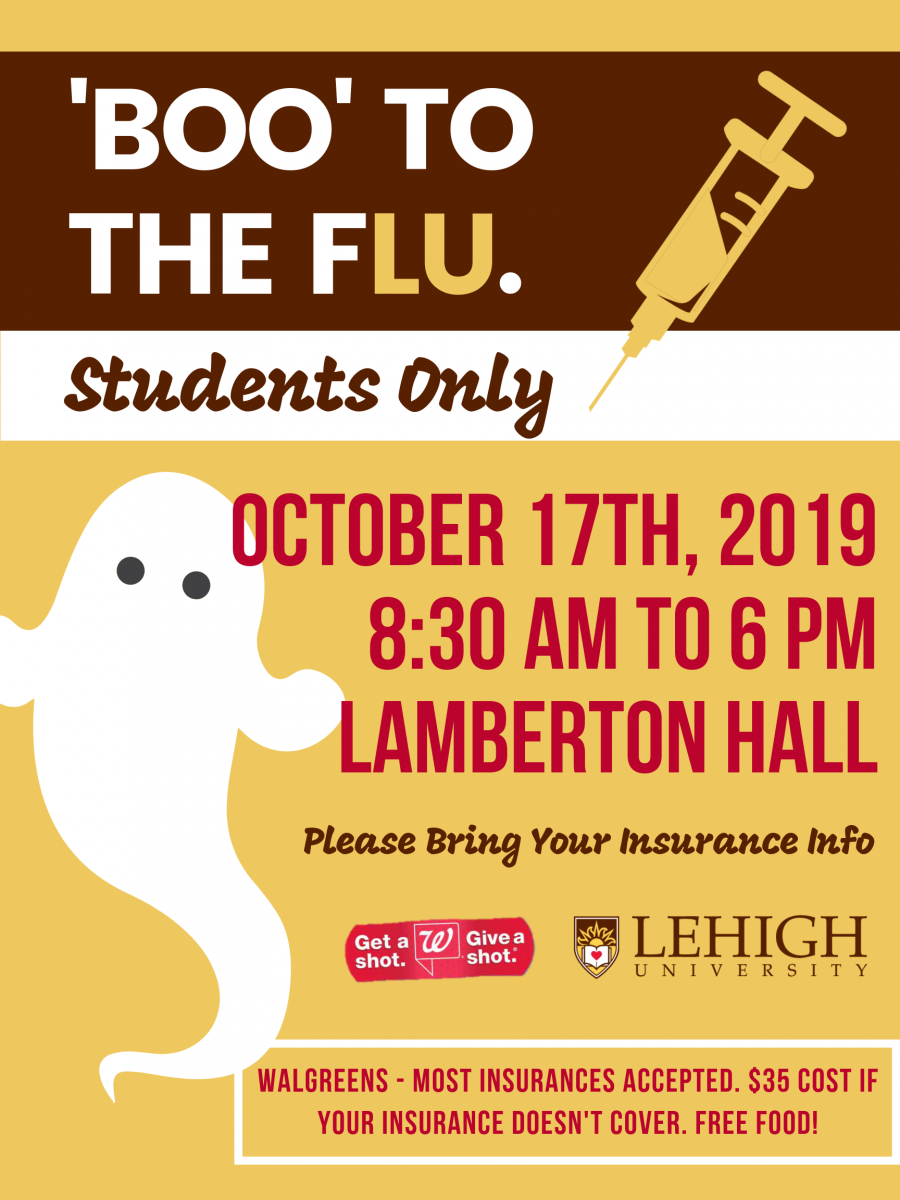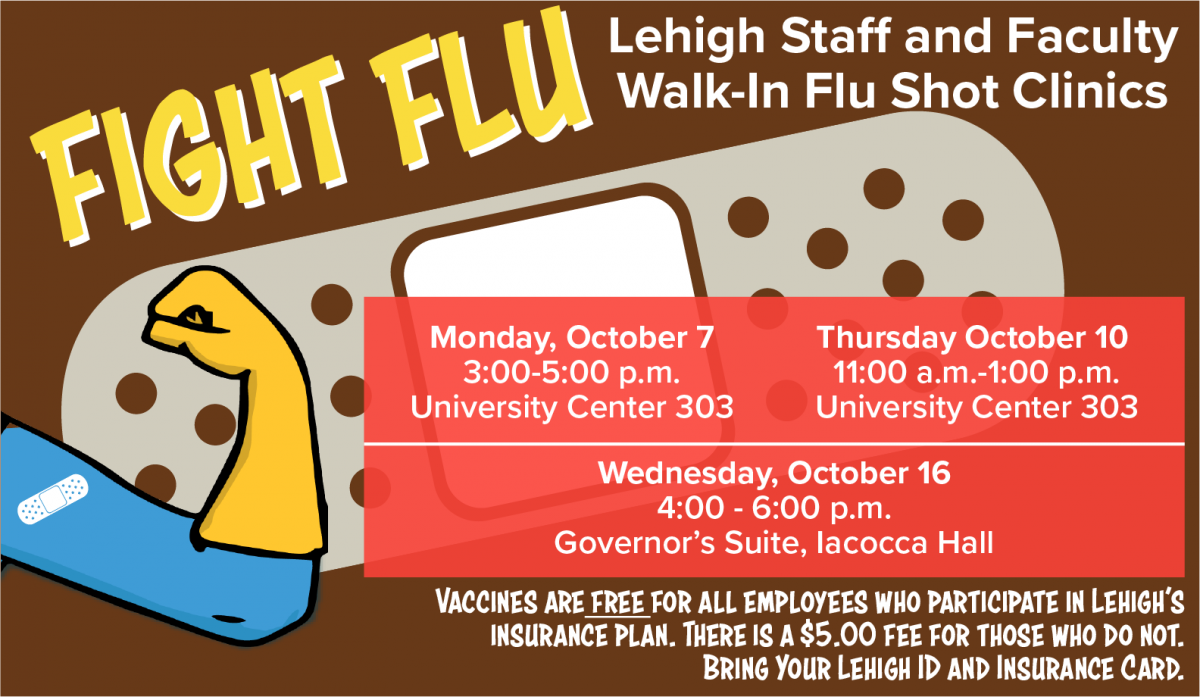 Letter Sent to Campus Community, 8/30/19:  Health Advisory on Mumps
Dear Members of the Campus Community,

 

We wanted to make you aware that a student came to the Lehigh University Health and Wellness Center this afternoon with at least one symptom that could be consistent with mumps, but a conclusive diagnosis can only be made with a mumps test. We have obtained the appropriate tests and are awaiting results from the Pennsylvania Dept. of Health, which should be available early next week.

 

Out of an abundance of caution, and according to the Lehigh University Health & Wellness Center protocol as well as standard recommendations from the Centers for Disease Control and Prevention (CDC) and Pennsylvania Department of Health, the student did leave campus to return to the family home, where the student will remain for the recommended five-day isolation period. In accordance with advice from the Bethlehem Health Bureau, we are also contacting individuals who were in close contact with the student to make them aware.

As a reminder, even completion of the recommended two dose series of MMR (measles, mumps and rubella) doesn't confer 100% protection from mumps. 

More information about mumps -- including symptoms, care and prevention -- was included in an earlier message we sent to campus. You can read that message in its entirety here:

https://www2.lehigh.edu/news/message-to-lehigh-community-regarding-mumps

 

We will keep you informed as more information becomes available.

Sincerely,
Ricardo Hall
Vice President for Student Affairs

David Rubenstein
Executive Director
Lehigh University Health and Wellness Center
Letter Sent to Campus Community, 8/21/19:  Message Regarding Mumps
Dear Students, Staff and Faculty,

 

We are writing to make you aware that a student who arrived at Lehigh on Sunday has been diagnosed with mumps, based on a positive test result that we received from the Pennsylvania Department of Health this afternoon. The student presented to the Lehigh University Health and Wellness Center on Monday and was evaluated and tested. Out of an abundance of caution, the student was immediately placed in isolation until test results came back. The student will remain in isolation until Saturday. That time frame is in ine with recommendations by the Centers for Disease Control and Prevention, the Pennsylvania Department of Health and the Bethlehem Health Bureau. We have also been working with the Dean of Students office and Housing Services to make sure that the student's needs are being met while in isolation.

The student has had very limited contact with other individuals on the Lehigh campus, but we will be reaching out to those who may have had even minimal contact while on campus to make sure all proper precautions have been taken.

Mumps is caused by a virus and typically causes pain, swelling and tenderness of the parotid glands. The parotid glands sit in front of the lower front edge of the ear and the swelling often obscures the angle of the jaw. This swelling usually lasts at least two days and can last up to ten days.

Fever, fatigue, headache, muscle aches and loss of appetite often precede parotid swelling by two to three days.

The incubation period from exposure to the virus to onset of symptoms is 12 - 25 days, with people typically showing symptoms starting on days 16 -18.

Mumps is most infectious from two days before, and until five days after, the onset of parotid gland swelling.

Mumps is primarily spread via direct contact from droplets of saliva or mucus from the mouth, nose or throat of an infected person, usually when the person coughs, sneezes or talks.  The virus may also be spread indirectly when someone with mumps touches items or surfaces without washing their hands and then someone else touches the same surface and rubs their mouth or nose.  Mumps is less contagious than measles or chickenpox.

Risk for infection increases with prolonged close contact, with roommates, housemates and intimate partners being particularly vulnerable.The risk for infection is much higher for those who are unvaccinated.

There is no 'cure' for mumps. Bedrest, fluids and supportive care medications are often recommended. Most symptoms resolve within a week or two.

Occasionally, complications such as swelling of the male and female reproductive organs, swelling of the brain and spinal cord (encephalitis, meningitis), pancreatitis and hearing loss can occur.

You can read about mumps in this Pennsylvania Department of Health Fact Sheet:
https://www.health.pa.gov/topics/Documents/Diseases%20and%20Conditions/Mumps.pdf

More information about mumps can also be found on the website of the Centers for Disease Control at:

https://www.cdc.gov/mumps/index.html.

Most students at Lehigh have had both of their mumps vaccines, which are administered as a combination vaccine against measles, mumps and rubella (MMR) as part of the childhood recommended vaccines. Lehigh requires that all incoming students provide evidence of two vaccinations against mumps or proof of immunity against mumps.

MMR vaccines are highly effective and the most effective prevention for mumps infection. However, the two doses of the MMR vaccine do not guarantee full immunity. Although there is a recommendation from the CDC to offer a third MMR during a mumps outbreak, that is not being recommended at this time.

Students can check their immunization history by signing into their secure Patient Portal found on our website, www.lehigh.edu/health. Once logged in, students can simply hit the 'Immunizations' tab followed by the 'Print History' button.

Students who have not received their mumps (MMR) vaccines should contact the Bethlehem Health Bureau at 610-865-7083 to schedule a vaccination. Students can also contact their primary care physician's office to schedule vaccination there. In the event of an outbreak, students who are unable to provide evidence of two mumps vaccinations can be excluded from campus until 25 days after the last case of mumps.

Students who have immunocompromising conditions or are on immunocompromising medications who may be particularly susceptible to infection, should contact their treating health care provider to discuss their particular risk and recommendations.

Students experiencing symptoms such as fever, fatigue, headache, muscle aches and loss of appetite should contact the Health and Wellness Center at 610-758-3870 to schedule an appointment to be evaluated. As a reminder, these symptoms are also very common with many other viral illnesses and not necessarily indicative of mumps.

We urge members of the campus community to practice routine precautions to help prevent the spread of illness, which include the following:
 

Cover your mouth with a tissue when coughing or sneezing, or cough into your elbow instead of your hand.

Wash hands frequently and thoroughly throughout the day, or use alcohol-based sanitizers.

Avoid sharing food and drinks (this includes drinking games) or participating in activities that result in saliva exchange.

Stay home from work or class when sick to avoid spreading the illness to others.

We will keep the campus community informed of any additional developments. In the meantime, we encourage anyone with questions or concerns to contact the Health and Wellness Center at 610-758-3870 or by email at inluhc@lehigh.edu.

Sincerely,
Ricardo Hall
Vice President for Student Affairs

David Rubenstein
Executive Director of the Health and Wellness Center