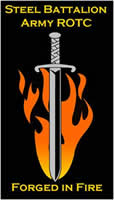 Welcome!
I would like to offer you an opportunity to explore one of the most challenging leadership training programs in the country. The United States Army is one of the most complex organizations in the world, and strong leadership and exceptional leadership development are critical to its success.
Being an officer in the Army means being a leader, a counselor, a mentor, a strategist, and a motivator. Officers must lead soldiers in a myriad of ever-changing situations and environments. The skills our program teaches aid in the development of successful military and corporate leaders.
To prepare prospective officers to meet these challenges, the Army ROTC program is designed to develop confident, competent, and adaptive leaders with the basic military skills and leadership foundation necessary to lead in any environment. Graduates of our program receive leadership skills that are sought after by both military and corporate leaders.  
Please feel free to check out our site. We look forward to working with you and encourage you to contact us with any questions, comments, or feedback you may have.
If you are visiting Lehigh University, our office is located in Jordan Hall, Mountain Top campus. If you are interested in the ROTC program or have questions regarding enrollment, eligibility requirement or scholarship interviews you may contact Harry Harp at  (610) 758-3272 or by email at hjh213@lehigh.edu
All other inquiries or questions regarding cross enrollment, class registration or University related matters please e-mail Rhonda Weidner at inmil@lehigh.edu or call 610-758-3275.
Thank you.
Brian Donahue       
Lieutenant Colonel
U.S. Army
Check us out at Facebook!    http://www.facebook.com/Lehigh.ROTC