Military Science and Leadership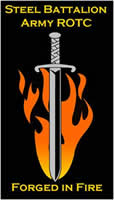 Welcome!
I would like to offer you an opportunity to explore one of the most challenging leadership training programs in the country. The United States Army is one of the most complex organizations in the world, and strong leadership and exceptional leadership development are critical to its success.
Being an officer in the Army means being a leader, a counselor, a mentor, a strategist, and a motivator. Officers must lead soldiers in a myriad of ever-changing situations and environments. The skills our program teaches aid in the development of successful military and corporate leaders.
To prepare prospective officers to meet these challenges, the Army ROTC program is designed to develop confident, competent, and adaptive leaders with the basic military skills and leadership foundation necessary to lead in any environment. Graduates of our program receive leadership skills that are sought after by both military and corporate leaders.  
Please feel free to check out our site. We look forward to working with you and encourage you to contact us with any questions, comments, or feedback you may have.
If you are visiting Lehigh University, please come by Jordan Hall 115. Our staff is here to help you continue your leadership development. You can contact our office at (610) 758-3275 or by email at inmil@lehigh.edu.
Thank you.
Brian Donahue       
Lieutenant Colonel
U.S. Army
Check us out at Facebook!    http://www.facebook.com/Lehigh.ROTC     
Hear what ROTC is like in the words of our cadets, check out our blog: http://lehighROTC.wordpress.com