LOW-ROPES COURSE
The Ultimate in Experiential Leadership Training
The Lehigh University Ropes Course is committed to a core philosophy that promotes self-knowledge and leadership competence. Learning happens by "making meaning" of life experiences. It is essential that our trainings provide individuals with significant educational experiences from which important leadership lessons are learned at the individual, group, and community levels.
What is a Low-Ropes Course?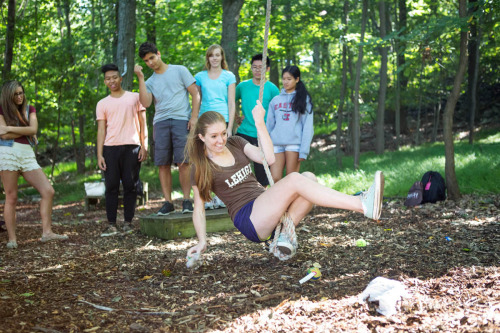 A ropes course is a series of outdoor elements made up of trees, wires, poles, and other equipment designed to create unique and challenging problem solving scenarios. Groups work together to negotiate the elements and successfully meet the challenges presented. Intentional learning focused on concepts such as team dynamics, effective communication, decision making, and leadership are woven into discussions following the completion of each element.
Low-Ropes Course Experience
The course is designed to accommodate groups from 8 to 120 people. Courses are typically 3 hours in lengths however, we can accommodate a 2 hour course if requested. At the ropes course groups will make meaning of the experience all while connecting back to the group's purpose. All sessions are tailored to the specific group's goals, objectives, or learning outcomes. Because each session is individually tailored, groups can participate on the course countless times and receive a different experience with each session. From engaging in the course participants can:
Enhance group cooperation, teamwork, effective communication, and leadership skills
Develop problem solving and critical thinking abilities
Build confidence and self-esteem by exploring individual and group strengths
Pricing and Scheduling
Scheduling and Pricing is based on group size. Sessions run rain or shine all year long and are taken on a first come, first serve basis. Events can be scheduled any day of the week, though weekends allow for the most flexibility in course time.
To find out more information about EVERquEST or to request a session,                                                                                
please contact the Community Service Office via:
Email: inropes@lehigh.edu
Phone: 610-758-6674
Christmas-Saucon Hall
14 E. Packer Avenue, Bethlehem, PA 18015
Click on Ropes Course at www.lehigh.edu/service