What is LeaderShape?
LeaderShape is a nationally recognized six-day experience that challenges participants to explore identity development and inclusive leadership.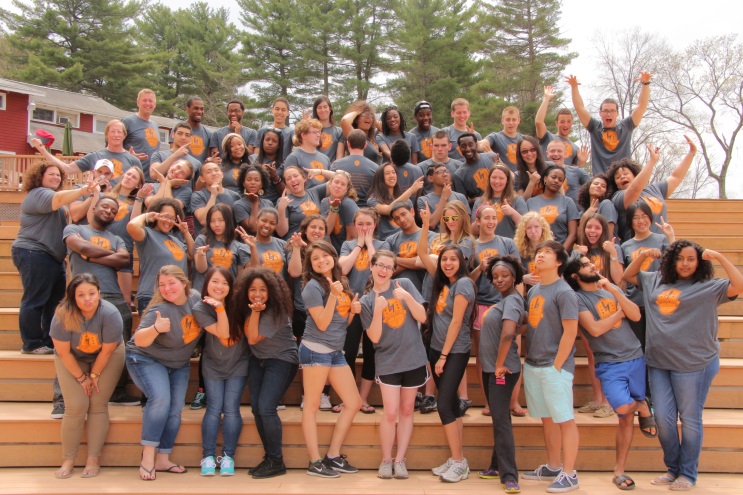 Students work towards developing a blueprint plan that includes discussions on how to lead with integrity™ and have a healthy disregard for the impossible.
The institute challenges participants to create a vision grounded in their deepest values. Students have the opportunity to learn about who they are, what they want to do, and who they want to be by engaging in dialogue and self-discovery.
What about LeaderShape at Lehigh?
LeaderShape at Lehigh was inaugurated in May 2014 and is unique in that it offers Lehigh students this six-day experience at a reduced rate and in a convenient location off campus.  Lehigh students have the opportunity to get to know their peers on a deeper level as well as faculty and staff members who volunteer their time as Cluster Facilitators.  LeaderShape at Lehigh participants stay connected to each other through the Day 7 program, a series of monthly meetings in the year following their LeaderShape session.
What do past participants have to say about LeaderShape at Lehigh?
LeaderShape® was a very powerful experience for me. It gave me the tools necessary to think from many different perspectives that I have never even imagined. I developed a new scope of the world, for what it really is, rather than how I see it through my own eyes. The people, energy, and love at LeaderShape sparked an entrepreneurial spirit to instill the change I want to see within my local community. I learned that we as one are great, but together, we can change the world.
-Ralph Jean-Noel, 2015
"In three words: LeaderShape is powerful."
–Bruke Mammo, 2017
"Thanks to LeaderShape, I had the opportunity to find my vision and work on ways to make it possible. I left LeaderShape being a better person, ready to make the world a better place."
Ansah Kamara, 2016
"Live with Integrity". It has really impacted me because, before LeaderShape I use to "talk" about Integrity but after Leader Shape I am compelling myself to "live" with Integrity
Kabita Karki, 2017
LeaderShape has helped me to define my passions and my vision while also teaching me that leadership starts with the person in the mirror then continues on to outer work.
Esther Petit-Frere, 2017
How do I find out more?
For more information, email inlshape@lehigh.edu.  Stay tuned for information session dates and so much more!
Check out LeaderShape's blog: http://iamleadershape.blogspot.com/