September Events:
Ask A Sexpert
Wednesday, September 14th at 5:00 pm in Maginnes 102
Navigating college hook-ups, sex, dating, and relationships can be hard. Specially trained members of Break the Silence peer educators create a safe space where new students can come to ask ANY and ALL questions they have about sex and relationships at Lehigh. Common questions include sexual pleasure, STIs, birth control, Lehigh culture, and consent.
Speaker Liz Lucas: "Authentically Connecting in an Overconnected World"
Wednesday, September 21st at 8:00 pm in Packard Lab 101
People are turning toward their screens instead of toward the person next to them. Our ability to connect with others has decreased.  Learning how to connect with others in a way that is authentic, meaningful, and lasting will allow you to build and maintain lasting personal relationships.
This will lead to 5 very simple principles to meaningfully connect with others and yourself. When you leave this talk, you will walk away with the confidence and tools to connect with others more deeply. These principles will inspire you when it comes to connection. You will learn to use technology to connect with your peers. You will be able to engage in meaningful ways, AND of course, have some fun along the way. This captivating talk will leave you laughing, nearly in tears, and with some actionable steps to start implementing immediately.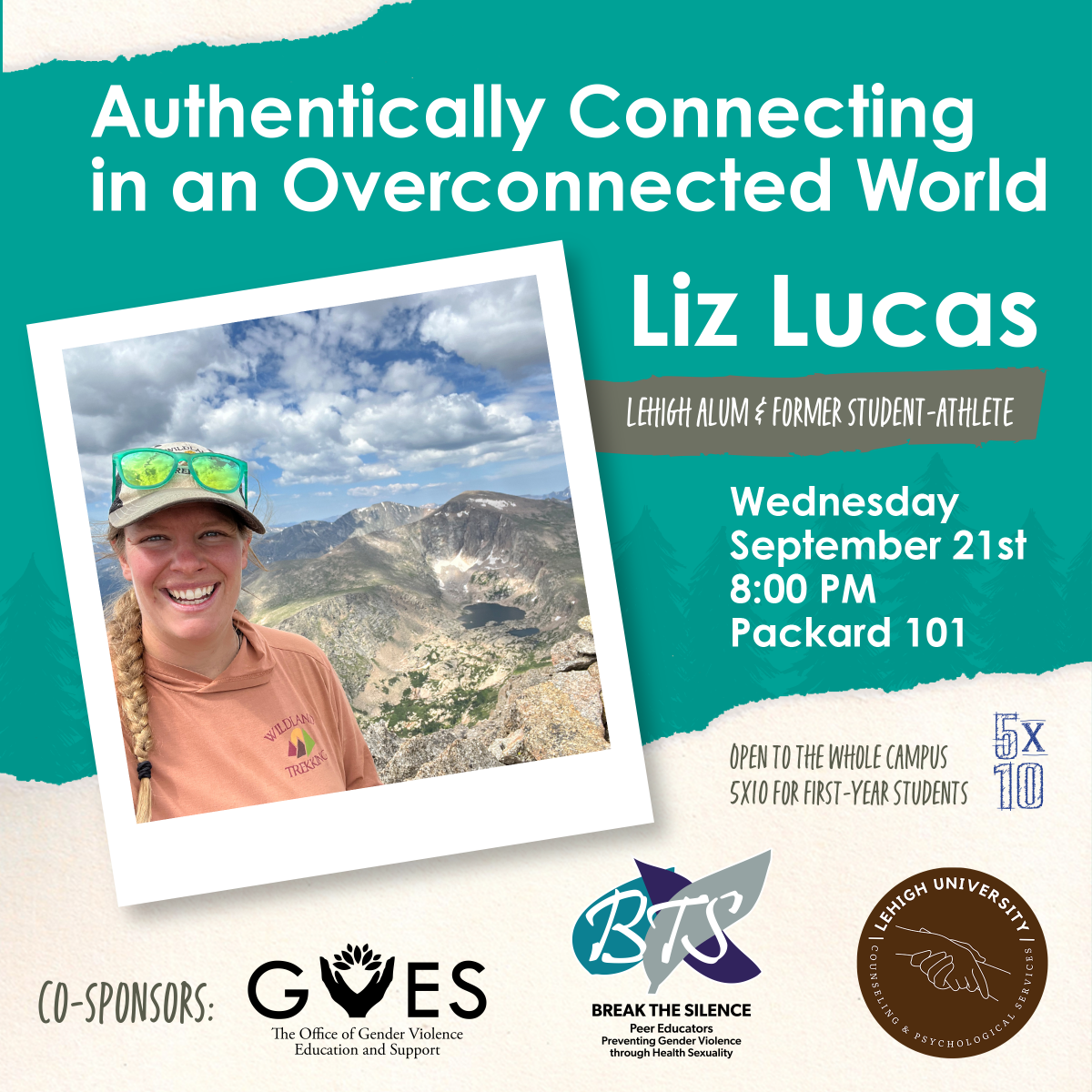 One Love's Escalation Workshop
Monday, September 26th at 4:30 pm in Chandler-Ullman 216
Escalation is a film that honestly and compellingly tells the story of an abusive relationship –– from its sweet beginnings to the tragic end. The authentic depiction of unhealthy behavior escalating into violence helps you understand and recognize the early signs of relationship abuse. The 40-minute screening is followed by a guided discussion.
October Events
"The Whos, the Whats, and the Things You Should Expect for Your Care as a Survivor of Sexual Assault"
Tuesday, October 4th at 4:30 in Williams Hall 341
Presented by the Lehigh Valley Health Network Sexual Assault Forensic Evidence Nurses 
Have you seen programs such as CSI, SVU or the Hollywood depiction of sexual assault and how the process is handled? Join the Forensic Evidence Exam Nurses from Lehigh Valley Hospital to learn about the care of a sexual assault survivor while myth busting preconceived notions. This live interactive simulation will depict the multidisciplinary approach to caring for survivors of sexual assault, while clarifying many misconceptions. Participants will have the opportunity to interact and develop the scenario and assist in formulating outcomes for the survivor.
Thursdays in October at 5:00 pm in Williams Hall 341