Fall 2020 Events:
"Ask A Sexpert" with Break the Silence Peer Educators
Tuesday, September 22, 2020 4:30-5:30 pm
Navigating college hook-ups, sex, dating, and relationships can be hard especially right now during COVID-19. Specially trained members of Break the Silence peer educators create a safe space where new students can come to ask ANY and ALL questions they have about sex and relationships at Lehigh. Common questions include sexual pleasure, STIs, birth control, Lehigh culture, and consent.
"Relationships 101: Healthy vs. Unhealthy" presented by Turning Point of the Lehigh Valley
Tuesday, September 29, 2020 5:30-6:30 pm
This educational presentation is for anyone who can benefit from knowing the difference between a healthy and unhealthy relationship.  What is keeping you from having a healthy relationship? Have you ever experienced a healthy or abusive relationship? Healthy relationships start with you. Learn about the qualities that an individual needs to develop in order to build healthy relationships, earn respect and build trust. Learn about and discuss the elements of an unhealthy relationship, and what the cycle of abuse looks like in abusive relationships. Learn ways to approach natural conflict in relationships. At the end of the presentation there are discussion questions to apply broad knowledge to some of the essential questions in the domestic and intimate partner abuse field. 
"Trauma Brain, Stress Brain: Understanding the Brain's response to Trauma and Stress, the Negative Effects on Learning and Life, and How to Change It"
presented by community partner and our trauma-informed yoga instructor Liz Jordon
Wednesday, September 30, 2020 6:30-7:30 pm
Have you ever sat down to read or study only to fidget, worry and read the same sentence 10 times and still wonder what you just read? An overactive, unchecked brain changes the physical environment that you dwell in. Participants is this session will learn the predictable but often undetectable brain response from simple to complex life experiences. Afterwards, attendees will experience the scientifically researched and proven benefits of specific yogic practice to counter the effects of trauma and stress giving your education investment a sustainable foundation.
"Bringing In The Bystander" presented by Break the Silence
Tuesday, October 6, 2020 5:30-6:30 pm
Brining in the Bystander is an educational program that encourages participants to become positive bystanders in instances of sexual and interpersonal violence and harassment. Participants learn to identify problem situations; they also learn practical skills for safe and effective intervention.
Bystanders are individuals who witness emergencies, criminal events, or situations that could lead to criminal events and by their presence may have the opportunity to provide assistance, do nothing, or contribute to the negative behavior. In the context of this program, prosocial bystanders are individuals whose behaviors intervene in ways that impact the outcome positively.
"One Love's Escalation Workshop" presented by Break the Silence
Thursday, October 15, 2020 4:30 pm
Escalation is a film that honestly and compellingly tells the story of an abusive relationship –– from its sweet beginnings to the tragic end. The authentic depiction of unhealthy behavior escalating into violence helps you understand and recognize the early signs of relationship abuse. The 40-minute screening is followed by a guided discussion.
"Define It!" presented by Break the Silence and the Resistance Lab
Thursday, October 22, 2020 5:00-6:30 pm
The Define It! program is a consciousness-raising program centered around rape prevention for LGBTQ+ students on college campuses. The program focuses on the following topics: bystander behavior, rape culture, the role of substance use, social influence, and sexual/gender identity on the occurrence of sex and sexual assault on college campuses. We offer a 90-minute program centered on small group discussion and reflection concerned with sexual assault and gender and sexuality identity.
How to Have EPIC SEX (or at least More Pleasure & Fun) in COVID Times
Presented by Lehigh alum Dr. Jenn Gunsaullus
Thursday, October 22, 2020 7:00-8:30 pm
go.lehigh.edu/GVESspeaker
Sex is titillating yet taboo, and simple yet also complex. And it's SO vulnerable. So how can you enjoy yourself more (and make sure the other person is happy) when you're not totally sure what you're doing? And how can you figure all of this out with COVID uncertainty? Through Dr. Jenn's signature combo of humor, honesty, and down-to-earth advice, you'll learn how to create a version of sexual and sensual play that works for you!
Event flier with speaker photo, title, date/time, description, event link, and GVES contact information pictured below: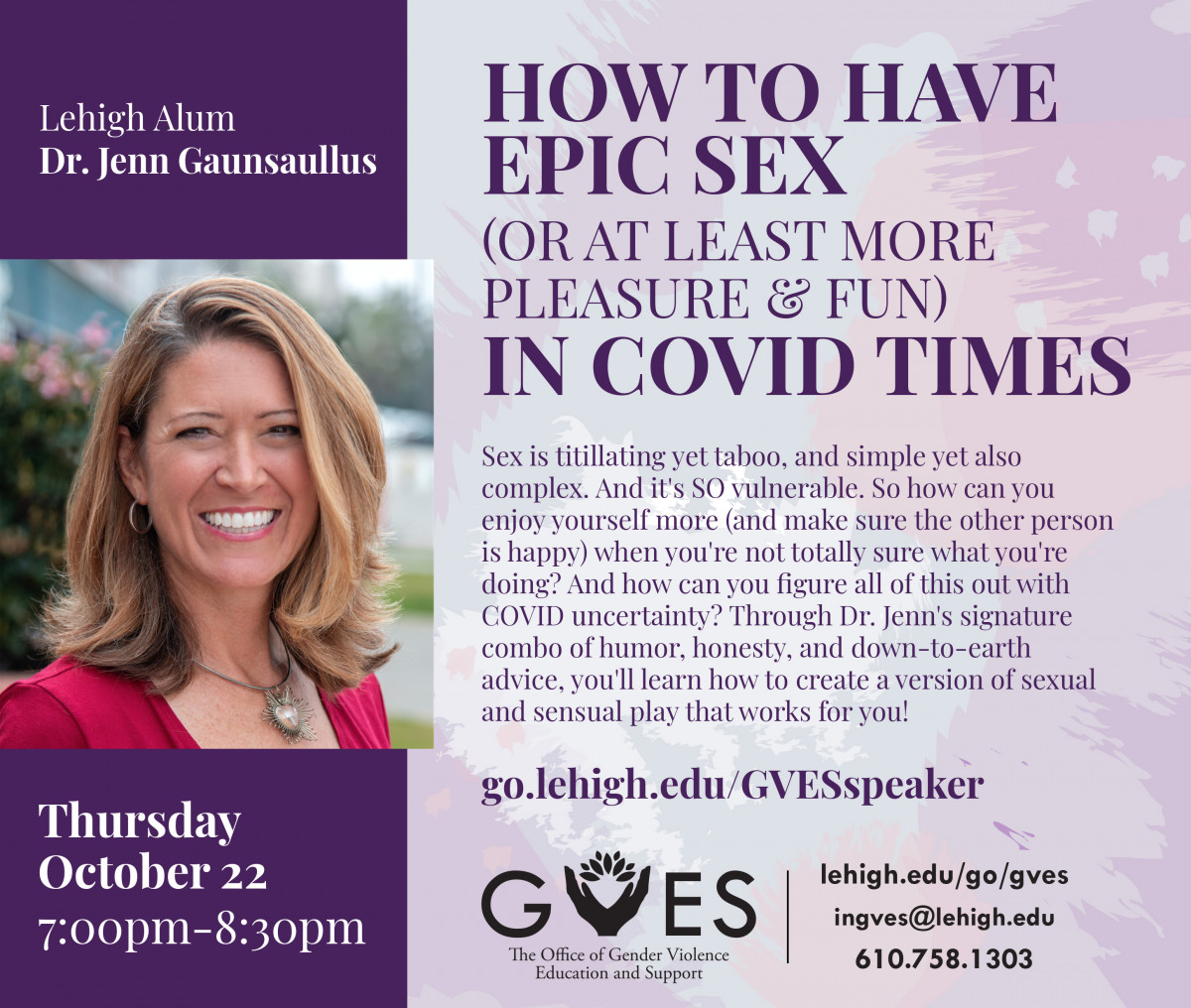 "Mythbusting Rape Kits" presented by Lehigh Valley Hospital SAFE Nurses
Thursday, October 29, 2020 4:30-5:30 pm
Are you a fan a crime dramas like Law and Order: SVU and CSI? Then join the Forensic Evidence Exam Nurses from Lehigh Valley Hospital to learn the gritty truth about sexual assault, consent, and safety. 
"Putting a Kink in Your Drink"
Wednesday, November 11, 2020 4:30-5:30 pm
Crime Victims Council of the Lehigh Valley's community educator, Emily Grigonis, will join us to talk about the impact of alcohol and other drugs on hooking up, sex, and consent. If you are planning to drink and have sex in college you need to attend this session!