Fall 2019 Events:
Wednesday, September 11th at 4:30 pm in University Center 306
Navigating college hook-ups, sex, dating, and relationships can be hard. Specially trained members of Break the Silence peer educators create a safe space where new students can come to ask ANY and ALL questions they have about sex and relationships at Lehigh. Common questions include sexual pleasure, STIs, birth control, Lehigh culture, and consent.
Special Guest Speakers:
Emma Daley and Adam "Fuzzy" Konner
"Consent Beyond Yes and No: Collaborative Consent for Sexier Sex"
Thursday, September 19th at 7:30 pm in Whitaker 303
Do you think of consent as a chore? Are you confused about how it could be sexy? Come learn how to discover mutual desires, communicate in sexy ways, and open yourself and your partner(s) to greater pleasure!
While sexual assault has rightfully gotten a lot of attention recently, it has also had the unfortunate consequences of giving consent a distinctly unsexy reputation and, frankly, making people afraid of sex. But consent doesn't just prevent violations—it also makes sex more fun and brings people closer. This workshop will engage consent as a collaborative approach to creating intimacy and pleasure. Together, we will practice identifying, voicing, and negotiating desires and boundaries. Regardless of your relationship status or style, learning to make empowered choices that reflect what you really want will lead to deeper fulfillment in your sex life and beyond!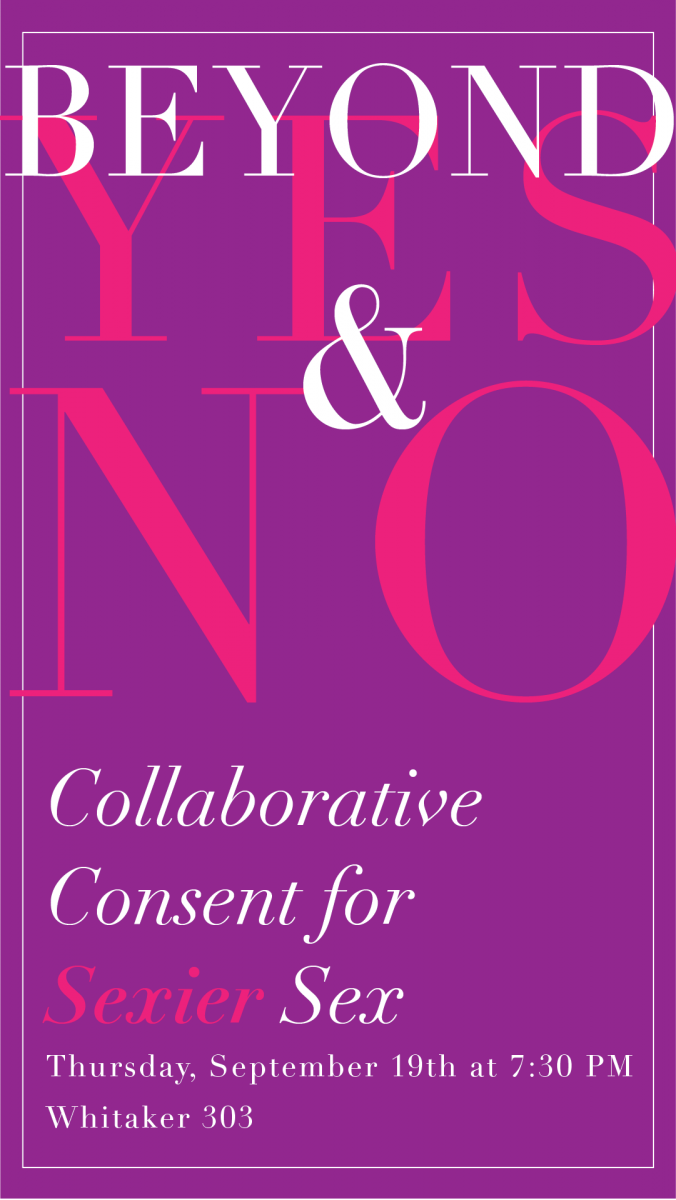 "Mythbusting Rape Kits" with the Lehigh Valley Hospital SAFE Nurses
Monday, September 30th at 4:30 pm in Maginnes Hall 110
Are you a fan a crime dramas like Law and Order: SVU and CSI? Then join the Forenisc Evidence Exam Nurses from Lehigh Valley Hospital to learn the gritty truth about sexual assult, consent,  and safety.
Tuesday, October 8th at 4:30 pm in University Center 306
Description:The Allentown Women's Center hosts a conversation about the plethora of contraceptive options at your fingertips. IUDs! Pills! Condoms! Implants! Rings! Patches! And more! Everything you need for a healthy and safe sex life.
Define It!
Thursday, October 17th at 4:30 pm in University Center B025
Co-Sponsored with the College of Education and the Pride Center
Description:The Define It! program is a consciousness-raising program centered around rape prevention for LGBTQ+ students on college campuses. The program focuses on the following topics: bystander behavior, rape culture, the role of substance use, social influence, and sexual/gender identity on the occurrence of sex and sexual assault on college campuses. We offer a 90-minute program centered on small group discussion and reflection concerned with sexual assault and gender and sexuality identity.
Tuesday, October 22nd at 4:30 pm in University Center B025
Crime Victims Council of the Lehigh Valley's community educator, Emily Rieser, will be on campus to talk about the impact of alcohol and other drugs on hookingup, sex, and consent. If you are planning to drink and have sex in college you need to attend this session!
One Love's "Escalation" Workshop
Wednesday, October 30th at 7:30 pm in University Center C207 (The Center for Gender Equity)
Escalation is a film that honestly and compellingly tells the story of an abusive relationship –– from its sweet beginnings to the tragic end. The authentic depiction of unhealthy behavior escalating into violence helps you understand and recognize the early signs of relationship abuse. The 40-minute screening is followed by a guided discussion.