A variety of professional development opportunities are available each summer. Participation is entirely optional, though highly encouraged. Cadets receive room and board when participating in summer professional development programs, as well as reimbursement for travel expenses. Selection for schools with restricted allocations is based on an order of merit list determined by the Director of Army Officer Education. This list will take into account academic performance, performance in Military Science electives, physical fitness, participation in ROTC activities during the school year, and overall performance assessments by Army ROTC cadre.
Airborne School
Army ROTC cadets may attend the US Army Airborne School at Fort Benning, Georgia. This physically demanding three week course trains soldiers to conduct military parachute operations. During the final week of the course, cadets conduct five parachute jumps as a prerequisite to graduation.
Cadets who graduate are awarded the U.S. Army Parachutist Badge. Airborne School adds to an officer's professional development regardless of future branch or assignment choices. Airborne qualification is a prerequisite for assignment to the U.S. Army's 82nd Airborne Division. Additionally, extra military schooling opportunities may be made available upon graduation from the Officers' Basic Course to officers who are already Airborne qualified.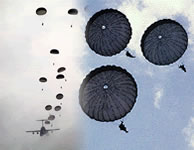 Air Assault School
Army ROTC cadets may attend the US Army Air Assault School at any of a number of Army posts. This physically demanding 12 day course trains soldiers to conduct military operations with Army Aviation support. In addition to a challenging physical training program, the course includes instruction on preparing and inspecting external sling loads, rappelling from helicopters, and a 12-mile timed road march in full combat gear. Cadets who graduate are awarded the U.S. Army Air Assault Badge. Air Assault School adds to an officer's professional development regardless of future Branch or assignment choices. Air Assault qualification is a requirement for officers assigned to the U.S. Army's 101st Airborne Division (Air Assault), and is highly encouraged for officers assigned to the U.S. Army's 10th Mountain Division (Light) and 25th "Tropic Lightning" Infantry Division (Light)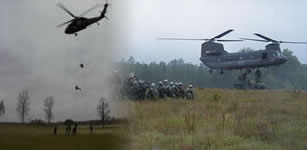 Northern Warfare Training
Army ROTC cadets may attend the U.S. Army Northern Warfare Training Center at Fort Greely, Alaska. This three week course provides training in the skills required for survival, movement, and the conduct of military operations in mountainous terrain and cold regions. Students are taught basic mountain climbing and mountaineering skills including rock climbing, mountain walking techniques, basic knots, ice climbing, and route selection. The course culminates in a three day field exercise that takes place on Gulkana Glacier. Students learn the importance of trusting their equipment and build confidence in themselves. This professional development course is advisable for those considering assignment to units in Alaska.
Note: This school is very physically demanding.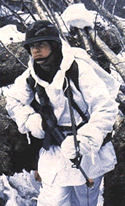 Mountain Warfare School
Mountain Warfare School is a two-week course taught by the Vermont National Guard at Ethan Allen Firing Range in Jericho, Vermont. The training is designed to make you an expert in mountain operations. Mountain Warfare School is both physically and mentally demanding. Training is non-stop, 15 hours per day, for 14 days. If you can carry a 65-pound rucksack up to five miles per day in mountainous terrain and are competent with both day and night land navigation you may have what it takes to complete this course.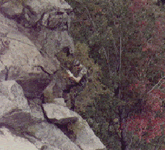 Cadet Troop Leadership Training (CTLT)
CTLT is available to cadets in the summer between their junior and senior years. CTLT provides a unique opportunity for cadets to experience the work environment of an active duty Second Lieutenant. Cadets are assigned for a three week period (four weeks for OCONUS assignments) to Second Lieutenant positions in the active army, usually to platoon leader positions, and are expected to lead soldiers in the accomplishment of unit missions. This on-the-job experience is potentially the most relevant and rewarding leadership training available to cadets in their preparation for commissioning as Second Lieutenants. CTLT cadets interact with unit commanders, junior officers, noncommissioned officers, and soldiers in the "real life" environment of the unit. Assignment to particular units or locations is based on allocations. In addition to room and board and reimbursement for travel expenses, cadets also receive pay while participating in CTLT.