Introduction
To connect the academic and living experience, faculty members have the opportunity to live in the residence halls. The Residential Fellow program strengthens the sense of community and creates unique opportunities for students to build significant mentoring relationships within the living environment.  Residential Fellows engage with students in their living environment through a series of programs and initiatives designed and implemented by the Residential Fellow in collaboration with the Office of Residence Life. The intellectual foundation of the program is a blend of the Fellow's area of expertise with Student Affairs' bLUeprint and the Five Foundations for Student Success.
Currently, Lehigh has one Residential Fellow program offered to upper class students who reside in the Sayre Park Village residential community. Information about the program, "It Takes a Village", is below.
"It Takes a Village"
Dr. Heather Johnson, Associate Professor of Sociology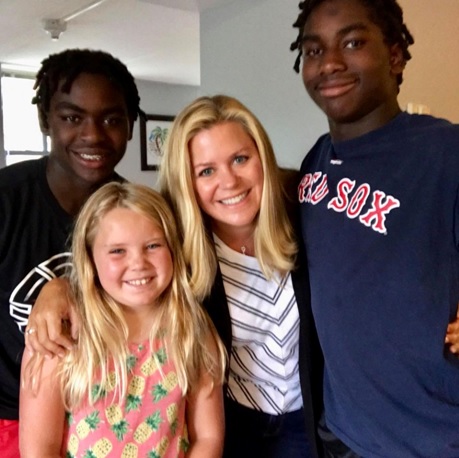 This is Professor Heather Johnson and her family's six year participating in Lehigh's Residential Fellow Program. Heather Johnson's family lives in Sayre Park Village as a Faculty Family in Residence. Students living in Sayre are able to participate with the family in exploring the theme: 'It Takes a Village!' This program centers on the African proverb, "It takes a village to raise a child," with the fundamental idea being that we, in community, are responsible for the well-being and potential of each individual. In addition to living in Sayre Building B, and regularly teaching her courses in the classroom located in Sayre Lodge, Professor Johnson and her family regularly welcome students into their lives through daily interaction in Sayre and around campus, gatherings in their home, and discussion series focused on the question "Does It Take a Village?" They are especially interested in issues related to community, diversity, identity, and the common good, and they organically explore these subjects through their daily interactions with students. Heather is Associate Professor of Sociology. Heather Johnson adopted her twin sons, Kyle and Owen, from Haiti in 2005. Her daughter, Meera, was born in 2008.  For questions about their Sayre Park Village Family in Residence program please email Professor Johnson at hbj2@lehigh.edu.
They keep a popular family blog, which chronicles their 'never-a-dull-moment life' as a progressive, dual-career, inter-racial, adoptive, outdoorsy, travel-loving, foodie family. Check it out!