Wednesday, April 23, 2014 - 4:54pm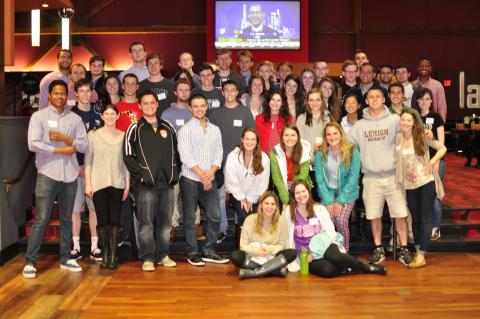 The Greek Emerging Leaders (GEM) program is excited to welcome 35 new mentees from 21 different chapters at Lehigh University. 
We look forward to working with these students as they further develop their leadership skills and explore how they will create positive change in their chapters and the Greek community. We celebrated their induction into the GEM program this past Tuesday, April 15 and will begin working together in August throughout the fall semester.
Please congratulate the following 2014 GEM Mentees!
Audrey Baer
Emily Beaman
Kevin Boorman
Laura Chan
Dakota DiMattio
Sean Donohue
Kallyse Duddlesten
Brian Duddy
Andrew Freedman
Cassandra Gakos
Ashley Goldschmid
Brooke Goldsmith
Jacy Herman
Elias Hess
Daniel Izzo
William Kavanagh
Nathan Keim
Karen Konkoly
Randall Lawson
Brian Lewis
Anthony Lonero
Tyler Martin
Ian McDonald
Matthew McKay
Megan McMichael
James Michal
Jacob Nelson
Zachary Neumann
Andrew Parola
Caio Simao
Allison Starer
William Sullebarger
Adam Svetec
Guerric Vornle von Haagenfels
Katherine Woodward