Who We Are:
Students trained by Health Advancement & Prevention Strategies staff members and other campus experts to help advance the health and safety of their peers at Lehigh University. Peer Heath Advisors provide peer-to-peer support, advice, resources and programming to promote health behaviors.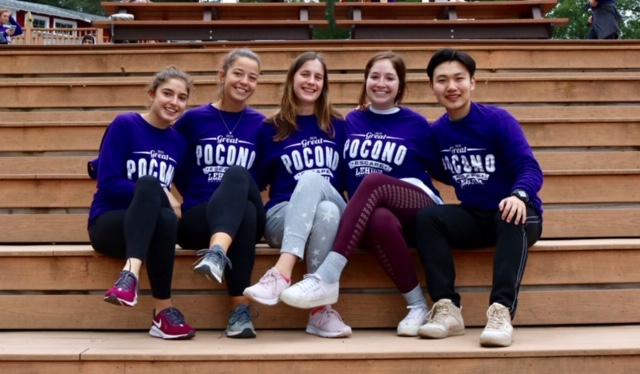 Our Mission:
To make Lehigh University a healthier and safer place through strategic peer-to-peer interactions focused on the promotion of healthy behaviors.
What We Do:
Sponsor and participate in health awareness campaigns and events and offer interactive health programs on data-driven, priority health topics for Student Organizations, Residence Halls, and/or anyone else who requests them.
Coordinate campus events around priority health topics and observances to foster community and healthy behaviors among Lehigh University students.
Develop and implement positive, lasting campus culture and policy change.
Goals:
1. Promote healthy behaviors and lifestyles
Serve as role models to peers
Promote healthy choices
Share information to promote health awareness
2. Prevent campus health and safety problems
Encourage students to believe they are in control of their health choices
Give students the skills necessary to make healthy choices
Positively affect health-related student behaviors 
3. Protect and improve student health
Improve student attitudes about healthy living
Increase knowledge of priority health topics
Provide resources
Interested in joining us and contributing to campus change?
Peer Health Advisors are trained by Health Advancement & Prevention Strategies staff members and other campus experts on priority student health topics such as alcohol and other drugs, sexual health, and sleep.  They have also received training on public health models and theories, facilitation techniques and classroom management, bystander intervention and recognizing signs of alcohol overdose.  Peer Health Advisors offer interactive health programs for students on campus such as Student Organizations and Residence Halls and also sponsor or co-sponsor and participate in health awareness campaigns and events such as health related calendar observances.
Peer Health Advisors are trained during the spring semester.  All newly accepted Peer Health Advisors are required to participate in this training, but may choose whether or not to take it for course credit.  The training is designed to teach the students all of the information they will need to know about current priority health topics; it will teach them facilitation techniques, and will demonstrate the various programs the group currently conducts.  Students need only undergo the training once.
Roles and Responsibilities
Participate in a minimum of two (2) programs or events per semester
Attend and participate in training sessions, group meetings, events, and activities
Assist in the planning, execution, and evaluation of related events and programs
Assist in recruiting, interviewing, and training new Peer Health Advisors
Abide by most recent mandated reporting policies and laws
Being a Peer Health Advisor will require a time commitment that can range within a few hours a week.  All members must attend weekly or biweekly group meetings which last about an hour on average.  In addition to this, new or orienting members must attend training, which will last the spring semester and generally be an average of three hours per week.  All Peer Health Advisors are expected to participate in recruitment, programming, facilitation, event organization, or other activities which could also take several hours a week, depending on students' involvement, Peer Health Advisor events scheduled, programming request volume, and the Lehigh University academic calendar.
Want more Info?  See our Frequently Asked Questions page!
Follow Us!