The American College Health Association - National College Health Assessment II
The ACHA-NCHA II is a nationally recognized research survey that assesses a range of health issues among college students, including:
Alcohol, tobacco, and other drug use
Sexual health
Weight, nutrition, and exercise
Sleep
Mental health
Personal safety and violence
Campus-specific questions.
Lehigh University has participated in the ACHA-NCHA II in the spring since 2013.  The goal of this data collection is to gain a profile of health habits, behaviors, perceptions, and trends among Lehigh students and to benchmark against national data.
Undergraduate and graduate students are randomly selected to participate in this confidential, web-based survey. If you are selected, please help us in our efforts to provide every member of our community with the very best health services by taking the time to complete the ACHA-NCHA II. The next survey will be administered in the spring of 2021.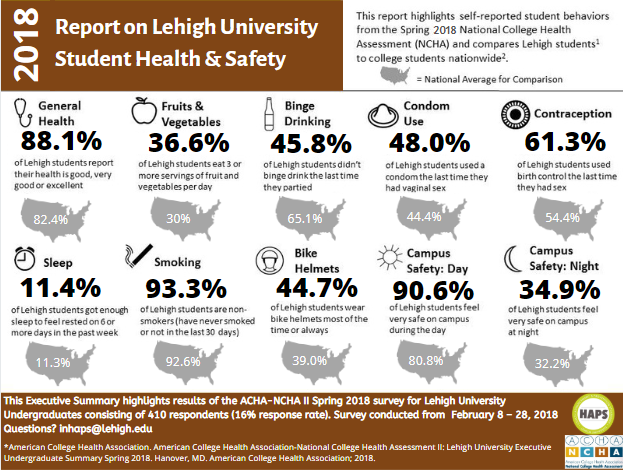 For more information about the ACHA-NCHA II, including access to downloadable national datasets, click here.