Issues of InSTALLments may be viewed in the restroom stalls of all academic and residential buildings at Lehigh University. This tool seeks to use communication strategies to inform and influence individual and community decisions to enhance health in the Lehigh community. Its purpose is to make health information available, accessible and actionable. It works to align and integrate health education and public health and safety to affect and improve academic performance. The InSTALLment is an innovative way to bring health education to students, staff, and faculty in a captive environment.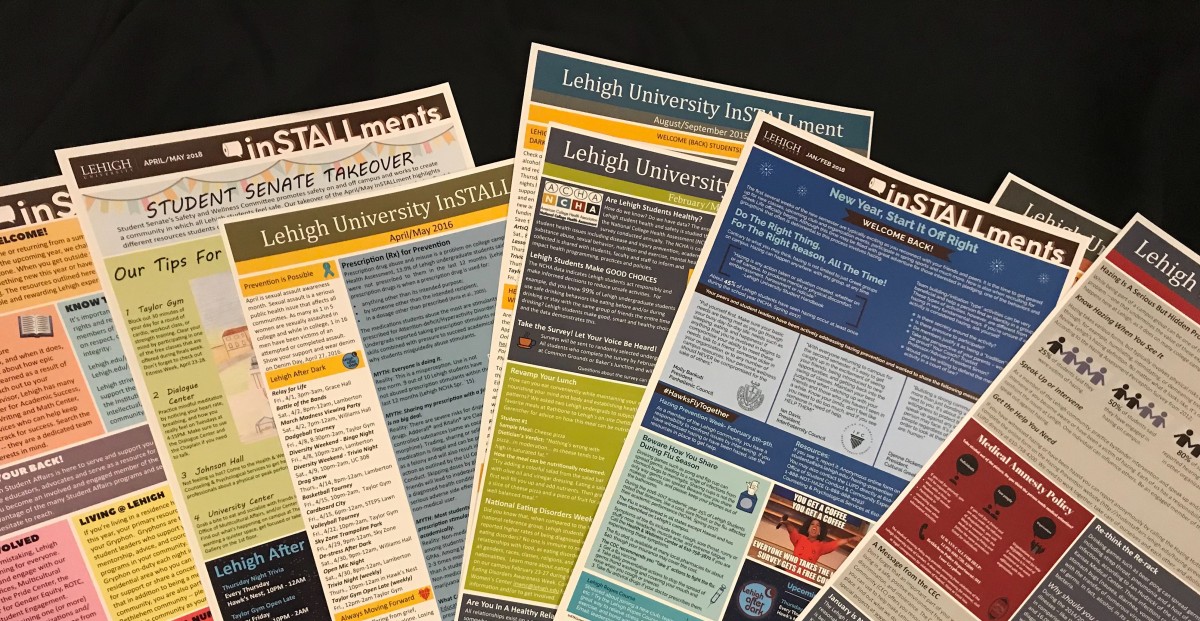 Contribute to the Installment
Lehigh University faculty, staff, and students are all encouraged to contribute to the InSTALLment.
Are you planning a health-related event on campus that you think others would like to know about?

Have you experienced an event or have a personal story that you think would positively impact other students' health and safety?

Do you want to promote a national health observance to raise awareness about an important health topic?
If so, please let us know! Send your contribution to inhaps@lehigh.edu.
Check out some past InSTALLments-
2019
January/February 2019: Breaking the Stigma on Mental Health and Resources to Help
March 2019: Calendar of Events and Getting Involved
2018
January/February 2018: New Year, Start It Off Right
March 2018: Take Time to Connect!
April/May 2018: Tips for Staying Healthy Around Campus
August/September 2018: Welcome to Your Home Away From Home
October 2018: Back Out of the Blackout
November/December 2018: Navigating End-of-Semester stress, sickness, and Step Up
2017
December 2017: Are you feeling the PRESSURE? 
October: Special Edition inSTALLment
April / May: Practice Preventative Care
February / March: Playing it Safe at Lehigh
2016
December / January: Chill Out, Don't Stress Out
October / November: Not Quite Comfortable with This New Academic Year? 
August / September: Choose to Be Aware & Step UP!
April/May: Prescription (Rx) for Prevention
March: Spring Break Edition - Be Body Positive
February/March: A Snapshot of Lehigh Student Health & Safety
2015
December/January: Hazing Is A Serious But Hidden Problem
October/November: Don't Just Stand There - Do Something
August/September: Welcome (Back) Students
April/May: Stay Focused and Use Your Time Wisely
March/Special Edition: Have Fun But Practice Safe Behaviors This Spring Break
February/March: How Healthy are Lehigh Students?
December/January: Healthy Strategies for Stress Management
2014
October/November: Drink Responsibly and Party Positive
August/September: Welcome (Back) to Campus
October / November: Not Quite Comfortable with This New Academic Year?