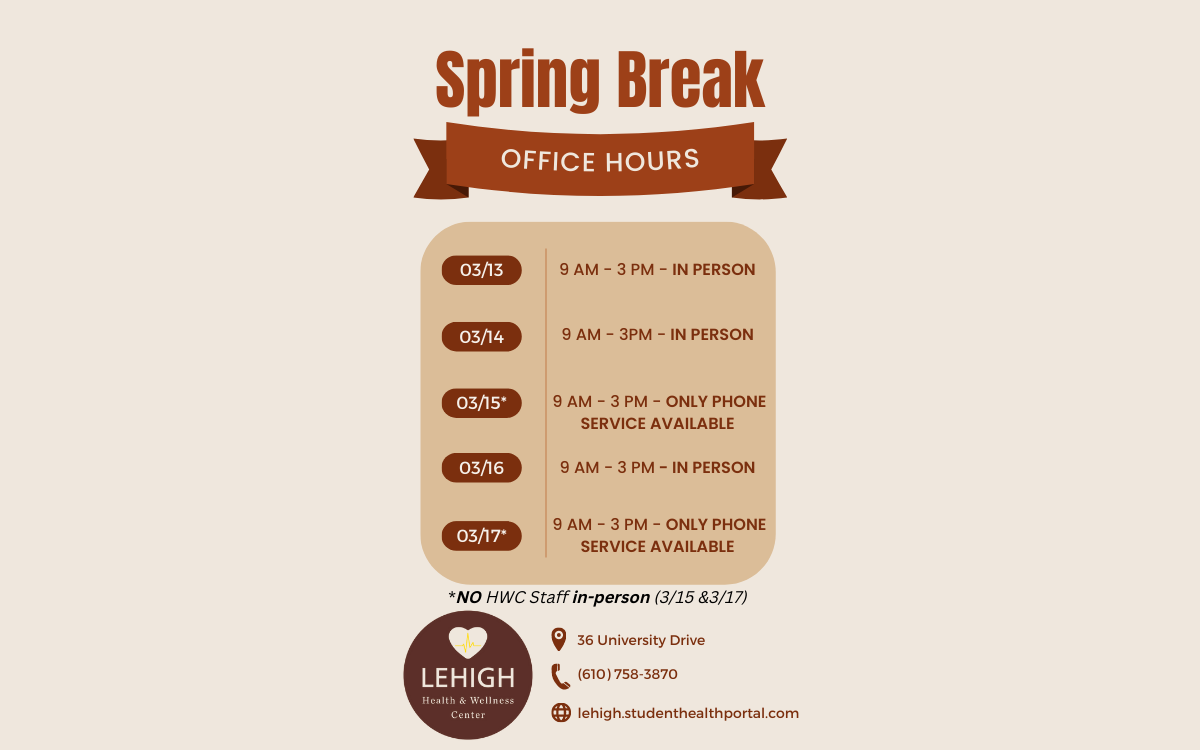 Fall & Spring Semester Hours
Monday-Thursday: 8:30 am - 4:00 pm
Friday: 9:15 am - 4:00 pm
*Lunch 12pm-1pm
Saturday & Sunday: Closed 
Break Time Hours (Winter, Spring, Summer)
Monday,Tuesday,Thursday: 9:00 am - 3:00 pm (in-person)
Wednesday & Friday: 9:00 am - 3:00 pm (remote and telehealth services only)
*Lunch 12pm-12:30pm
Saturday & Sunday: Closed 
FOR STUDENTS: Even when the Health & Wellness Center is closed, by calling our main number (610-758-3870) through a partnership with Lehigh Valley Health Network, students can get in touch with a Triage Registered Nurse for health issues that are non-emergent, but cannot wait until the next day.  When students call our line after hours, there will be a prompt for them to select that will automatically connect them to the LVHN triage nurse department. A summary of the encounter will be sent to The HWC for a Provider to review the following day.
In the case you are having a medical emergency while the Health & Wellness Center is closed please take one of the following actions:
1. If you are on Lehigh's campus call the Lehigh University Campus Safety at:
610-758-4200
2. If you are not on Lehigh's campus call the Police Department at: 
911 
Lehigh's Counseling & Psychological Services also has an after-hours crisis counseling hotline. This can be reached by dialing 610-758-3880 and then pressing "0" - this will allow you to speak to their counselor on call.