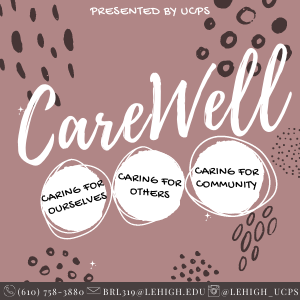 The term "Wellness" can have many meanings. What does it mean to you?
If you're curious about how to support your own wellness and the wellness of others, we invite you to join us for a new series from UCPS - CareWell. Throughout these discussions, we'll reflect on what it means to be well, how to create an environment suitable for wellness, and explore what to do when you're worried about others. 
These conversations will make use of collective knowledge through our reflection, discussion, and exploration to develop personalized strategies for approaching our own challenges and those of the community we strive to serve well. 
Although each session may be attended individually, we recognize that wellness is an active and ongoing process, and the benefits will be maximized with an ongoing commitment to learning and exploring these topics.
These trainings are available for all Lehigh Staff, Faculty, and Students. Sign up for individual workshops at go.lehigh.edu/carewell. 
If you have a topic that you think may benefit our Lehigh community, send your idea to brl319@lehigh.edu.