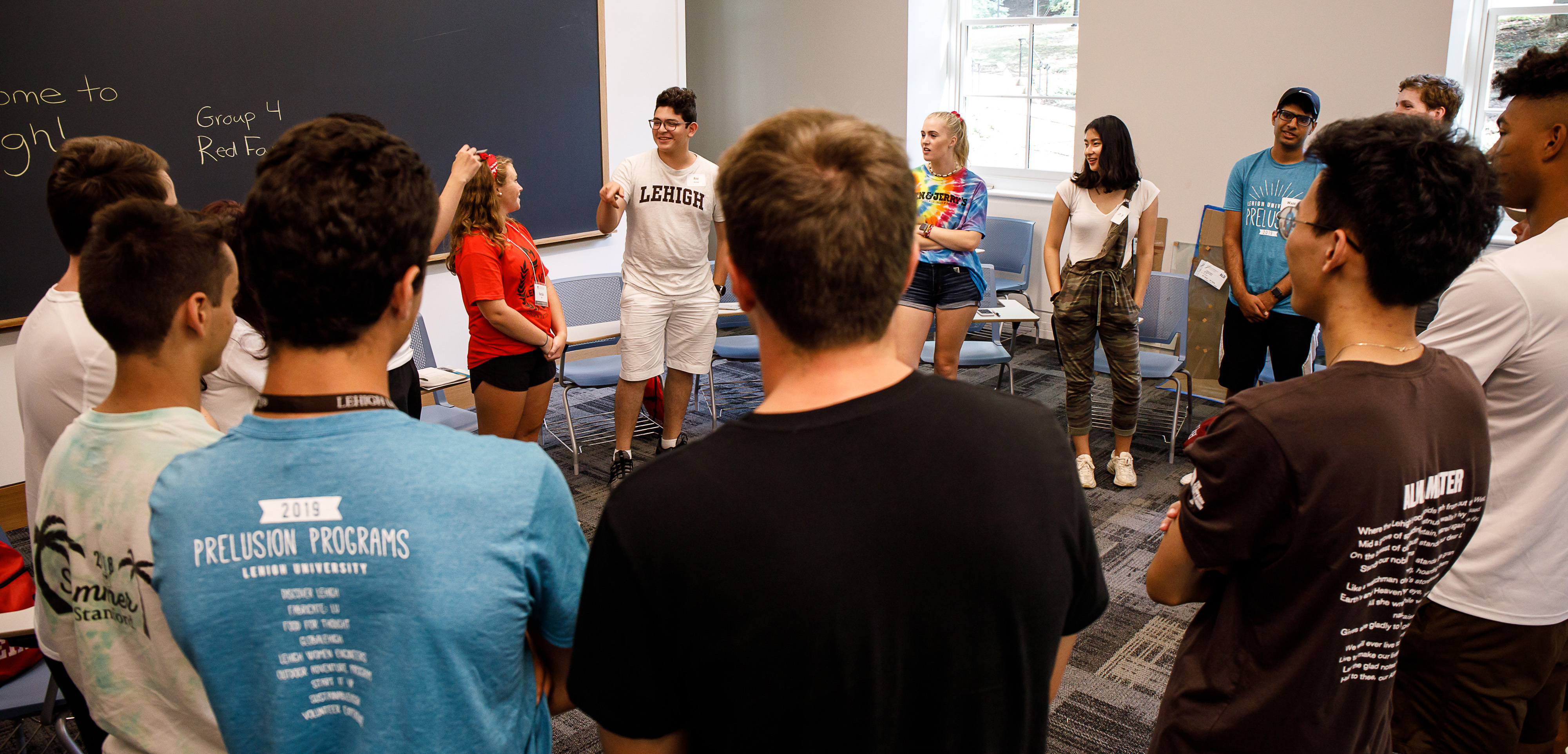 Being a Lehigh student means you are involved, engaged, and active in your learning experiences. In this 10-week program, you will set goals, develop an action plan, and take the crucial first steps along your pathway to success. You will build purposeful connections – with people and to resources - to enhance your Lehigh experience.
This is a unique to Lehigh experience, where you will meet individually with a faculty or staff member and in small groups with an upper-class student as you navigate your new environment.
You set the course and direct where you are headed, and these individuals will collaborate with you by asking good questions and aiding you in finding the resources and opportunities to make the most of your Lehigh experience.
---
In the program, you will:
Meet individually with faculty/staff collaborators at least twice.
These meetings will encourage you to set academic and personal goals, consider resources for success, and encourage thoughtful reflection around bLUeprint's 5 Foundations and learnings from 5x10 programs you attend. They will help you think about your path at Lehigh and resources for your personal success.
Meet with Orientation Leaders and your Orientation group at least twice.
These meetings are a great place to ask questions, discuss concerns and challenges, and explore campus issues early in your Lehigh career with other students who have recently been through the transition and are skilled at navigating Lehigh!
You will choose at least 5 programs to attend that relate to your path and will enhance your success. A calendar will be available for you to choose programs that interest you.
---
The 5x10
To help begin your journey of curiosity and exploration, we created the 5x10 programming series. We expect all first-year students to attend five programs – one for each of the Five Foundations in the first ten weeks of the semester. During the first ten weeks of college, you will begin to develop new routines, create new social connections and begin to establish your place at Lehigh. The 5x10 programming series is a way to expose you to the multitude of opportunities that exist at Lehigh, and encourage you to reflect on those opportunities, so you can maximize your experiences.
To give you a taste of the types of events you might see, a few examples from last year include:
Healthy Happy Living on Campus
Welcome to the SouthSide
Freakin' 4 o'Clocks (A Survival Guide)
How to Date (or Break Up) without Being Broken
Talk Nerdy to Me: Giving Engaging Research Presentations
---
How to Register
NavigateLU exists to aid you in your success and is a mandatory program for all first-year students. However, we want you to have the agency to find programs, staff, faculty, and administrators who might best support you, and you might have some shared interests with. All of our collaborators will share information about themselves that you can review over the summer. 
During Orientation, you will be given access to a registration page where you can choose an individual who might best serve as a connection and guide for you. After signing up, you will receive email notification from your collaborator to sign up for meeting times. Students will be randomly assigned if they do not sign up by the deadline. Additionally during Orientation, you will get access to the calendar of events for 5x10 programs which will continue to grow throughout the fall semester.