Fall Orientation
Orientation aims to help your transitions to college life. This is your chance to meet your new classmates and the student Orientation Leaders, learn about Lehigh's academic and social expectations, and have fun! Below, you will find all of the information to make your Orientation experience and a successful one.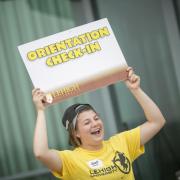 Important Dates Fall 2015
Prelusion: August 17 - 19, 2015
Move-in: August 20, 2015
Orientation: August 21 - 23, 2015
First Day of Class: August 24, 2015
Camp Hawk: September 18 - 20, 2015
Orientation Schedule 2014 At-a-Glance (the 2015 schedule will be uploaded soon!)
Thursday, August 21, 2014
8:30am - 12:00pm Orientation Check-in & Residence Hall Move-in
8:15am - 4:00pm University Offices & Bookstore Open
Optional Information Sessions
11:30am - 1:30pm Welcome Lunch (Students and Families separate following lunch)
4:15pm - 5:15pm Orientation Kick-off
5:30pm - 8:00pm Orientation Group Meetings & Dinner with your group
8:00pm - 9:00pm  Residence Hall & Commuter Student Meetings
9:00pm Social Event begins
Friday, August 22, 2014
7:00am - 9:00am Breakfast
8:15am – 9:00am Preparing For Your 1st Day Session
9:15am – 9:45am Orientation Group Meeting
10:00am – 11:00am College Convocations
11:00am – 3:00pm Academic Advising (15-30 minute appointment times vary)
11:00am - 1:00pm Make & Take
11:00am – 2:00pm Lunch
12:00pm – 3:00pm 5x10 Campus Resource Reflection Tracks
3:30pm – 4:30pm Lehigh 5x10 Symposium
5:00pm – 8:00pm Faux Friday & Residence Hall Building Meetings
8:00pm - 11:00pm Color Wars
Saturday, August 23, 2014
7:00am – 9:00am Breakfast
9:00am – 10:00am Orientation Group Meeting
10:00am – 4:45pm Lehigh Life, Off the Hook, & Lunch (sessions rotate and vary by time)
4:30pm - 6:30pm Culture Fest Dinner & Residence Hall Meetings
7:00pm – 8:30pm First-Year Student & Alumni Rally
8:30pm – 1:00am Lehigh After Dark Kick-off at ArtsQuest
Sunday, August 24, 2014
9:30am – 10:15am Orientation Group Meeting
10:30am – 1:00pm Values & Integrity and Brunch
1:00pm – 3:00pm Academic Support for Students with Learning Differences Session
Preparing For Your 1st Day Session
3:00pm – 4:30pm Summer Reading Discussion
5:00pm – 6:00pm University Convocation (Business attire requested)
*Schedule is subject to change. Students will receive a detailed schedule upon arrival. Sessions that are mandatory will be indicated on the schedule.
Move-In Day & Check-In
All first-year students must check-in for Orientation at Iacocca Hall on the Mountaintop Campus. At Orientation check-in you will receive your Orientation schedule, first semester course schedule and directions to your residence hall. You will not be permitted to check into your residence hall until you have checked-in for Orientation.
Need directions of how to get to campus for check-In? Directions to Mountaintop Campus.
Packing List:
If you're wondering what to bring with you as you arrive on campus. Here is a list of helpful items to consider. Remember, Residence Hall rooms are never as large as you imagine, do not over pack; you can always bring more things back with you next time you're visiting home.