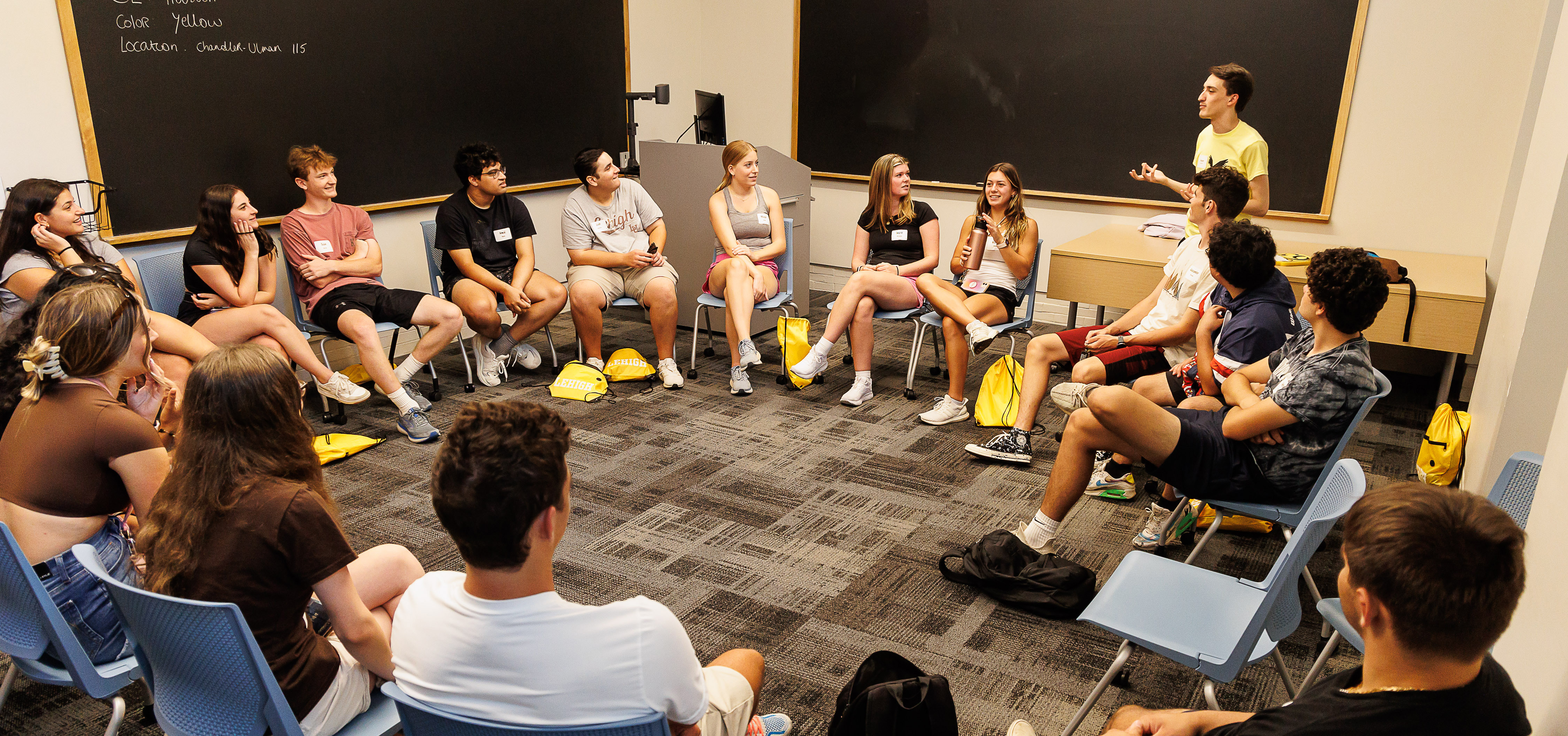 Spring Orientation: Sunday, January 22, 2023
---
Orientation will take place on Sunday, January 22 from 9:45am - 4:45pm. It is required of all incoming students.
Orientation Check-in & Breakfast will take place at 9:45am in the Health, Science & Technology Building, Room 101. View the schedule below.
At Orientation you can expect to meet other newly admitted students, interact with upper-class students to learn about Lehigh and how to get involved, and learn about campus resources to jumpstart your success. You'll also hear about the expectations of being a Lehigh student and resources to help you navigate the semester.
Orientation Leaders are upper-class students whose role is to help with your transition to campus. They will serve as a resource throughout your first semester at Lehigh. Your Orientation Leaders are eager to meet you and welcome you to Lehigh, and they will be reaching out to you before and during your transition.
Being a Lehigh student means you are an involved, engaged, and active participant in your learning experiences. In NavigateLU, students will discuss their transitions to the university environment, enhance their knowledge of academic and campus resources, and reflect on their experiences joining the Lehigh community. You will complete:
Two one-on-one meetings with a faculty/staff member
Attend various campus programming with peers and an Orientation Leader
*NavigateLU is required for incoming first-year students and strongly encouraged for upper-class transfer students.
This exciting 4-week program series is designed to bring together students to build meaningful connections with their peers. Student leaders will facilitate fun challenges for students to get to know each other and lead thoughtful discussions about their Lehigh experience. The student leaders will serve as a resource for first-year and transfer students as they navigate their transition.
Registration will open in December at go.lehigh.edu/camphawk. 
Office of the First-Year Experience Newsletter
The OFYE produces a monthly newsletter sent over email that features important information, helpful tips, upcoming events, and much more! Check your email daily to view our newsletter as well as other important information about campus life.
Welcome Lehigh parents and family members to the community! We will host a virtual information session for families to meet Lehigh staff, learn about important resources, and hear from student leaders about the Lehigh experience. Please pass along the word to your families!