Fall Prelusion 2020
August 17-19, 2020
---
Registration
Registration will open in mid-May, when the evoLUtion:1 tab on the Portal goes live. At that time, you will be able to register through the evoLUtion:1 Portal tab, under the May section of the Summer Checklist. If your plans change over the summer, refund requests must be made in writing to fye@lehigh.edu before June 30. No refund requests will be accepted after June 30, 2020.
If the cost of a preLUsion program is difficult to cover, there are opportunities to receive scholarship money from Lehigh University. Application will become available in early May. The deadline to apply for this scholarship is June 22.
EARLY ARRIVAL INFORMATION
Monday, August 17: Check-in from 8:00 a.m. to 10:30 a.m. in Iacocca Hall on the Mountaintop Campus
All programs will meet for lunch with their group at 12:00pm. Be sure to say goodbye to your family at this point. You will not have an opportunity to meet with them again before the end of the day.
---
FALL 2019 Prelusion Programs
*Please note these programs may change year to year.*
---
Set off on a discovery of your new hometown! On this expedition, you'll discover all there is to know about campus and how Lehigh came to be—you'll even visit the hometown and mansion of our founder, Asa Packer! Explore Bethlehem and learn the city's history—you'll visit various sites, restaurants, and tour Bethlehem Steel and learn the impact of the company's rise and fall. Plus, current students will teach you all the ins-and-outs of Lehigh and the little secrets upper-class students wish they knew sooner!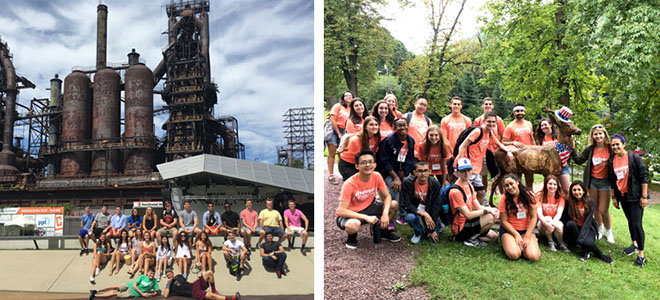 Explore this area, make connections, and think about how you can make the most of your experience here to have fun and be successful.
As a part of this three-day discovery:
Tour Asa Packer's mansion in his hometown of Jim Thorpe, PA
Explore North and South Bethlehem with city experts
Challenge your team building skills at Lehigh Valley Captured Escape Room
Discover Bethlehem Steel and ArtsQuest
Enjoy different dining experiences in Bethlehem and the surrounding areas
Connect with peers and upperclass students
Come join us and we will help Lehigh and Bethlehem feel like home in just three short days!
Cost: $250       Capacity: 18
Minimum number of participants required for the program to run: 5
For more information contact inofyega@lehigh.edu
---
Do you enjoy working with your hands? Or, have you never held a screwdriver before, but want to learn how to get started making things? Come explore many of Lehigh's fabrication facilities and learn how to leverage these tools to support your educational and personal growth. Be empowered to create something functional from raw materials, and leave with a one-of-a-kind keepsake to mark the start of your Lehigh journey.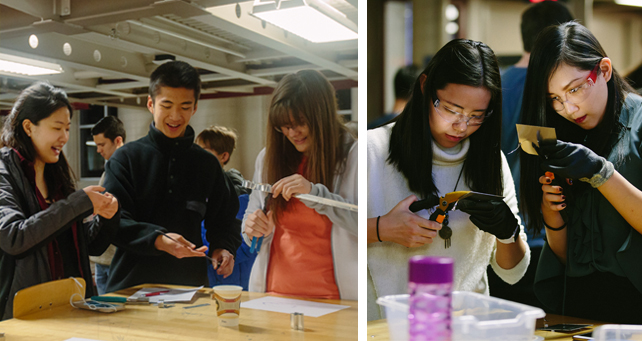 Participants in the Fabricate: LU program will engage with a variety of on-campus resources, ranging from a traditional cabinetry-grade woodshop to CNC machining to various 3D printing technologies as well as the staff who run them. These resources are available to all Lehigh students, yet require training to use. Get a leg up on your fellow classmates by exploring Lehigh's state-of-the-art facilities.
As part of this intensive, exciting foray into making, students will:
Engage with faculty, staff, and upperclassmen interested in making things
Explore traditional methods of work, such as bending sheet metal to give it form and cutting wood precisely to shape
Learn to harness the powers of programming and electronics with an Arduino microcontroller
Get exposed to the exciting emerging technology of 3D printing by designing and printing components of your project.
Spend an afternoon exploring the local area, learning some of the history of an old manufacturing city, while familiarizing yourself with your surroundings at Lehigh.
Enjoy local food options surrounding the university in South Side Bethlehem's arts district as well as North Bethlehem's historic district.
Experience the thrill of taking disparate components made with a wide variety of skills, and combining them into a final, functional, personalized work of art.
No special skills, abilities or experience is necessary whatsoever, we will teach you how to start using these wonderful resources on campus!
Cost: $375       Capacity: 12
Minimum number of participants required for the program to run: 8
For more information contact Brian Slocum at bcs3@lehigh.edu or Michael Moore at mwm312@lehigh.edu
---
What better way is there to get to know your new community than by learning about the area's unique cuisine, eating delicious meals, and sharing good conversation with your fellow Lehigh students? Food for Thought will take you on a culinary journey through campus, Bethlehem, and the Lehigh Valley. As we explore these areas, we will consider how thinking about what we eat opens up avenues to nuanced understandings of our identities, cultures, and communities.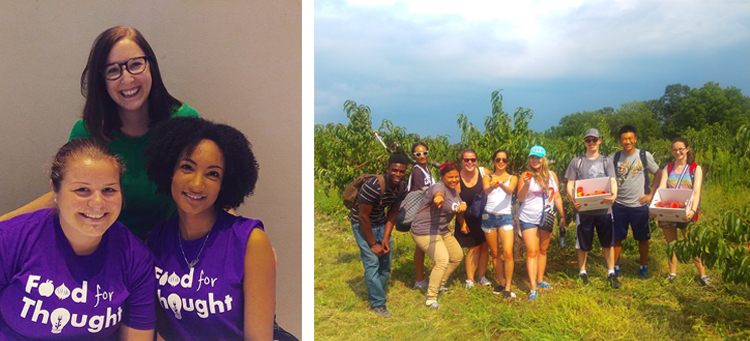 We'll enjoy the restaurants of North and South Bethlehem and receive a behind-the-scenes look at what it takes to feed about 5,000 Lehigh students on campus every day. We will work with the Lehigh Dining chefs and work in the kitchen. And we will explore the Lehigh Valley with a focus on food—such as visiting local farms, markets and restaurants from Easton to Emmaus.
Whether you call yourself a "foodie," are passionately interested in sustainable food production, or are simply interested in learning more about the local area through a unique lens, you will begin your time at Lehigh with a greater appreciation for the complex processes and rich meanings behind every meal.
*Food for Thought can easily accommodate any dietary restrictions and allergies. Please contact Carrie with any questions or concerns you may have.
Cost: $225      Capacity: 10
Minimum number of participants required for the program to run: 7
For more information, contact Carrie Gerencher e00913@lehigh.edu
---
GlobaLehigh takes you on a virtual three-day trip around the world as you immerse yourself in culture, cuisine and all things global. As you experience your first taste of campus, your activities will extend far and wide. 
Here are just a few of the activities awaiting you: 
Take a behind the scenes tour of the United Nations headquarters and meet with a diplomat
Eat your way around the world
Network with Lehigh alumni working in international careers
Explore the many different views of Globalization
This journey will be led by current students highly involved with all things Global at Lehigh. See for yourself why Lehigh University is truly a Global community!
Cost: $265       Capacity: 20
Minimum number of participants required for the program to run: 15
For more information contact Katy Rene at ker415@lehigh.edu
---
As an incoming woman engineer, you may be wondering about the dynamic, creative, exhilarating and rewarding field that you are about to enter. With many of Lehigh's top engineering students being women, you are joining an impressive and elite group. To begin college with a leg up, come join us as we learn the ins and outs of Lehigh Engineering!
During your three days with Lehigh Women Engineers, you will engage in guided lab activities that will offer hands-on experiences to help you get acclimated to academic study at the college level. You will also be given the opportunity to visit various departments, research centers, and other parts of campus as you are introduced to the multitude of programs, clubs, and resources here at Lehigh, all of which are dedicated to your success in Lehigh Engineering.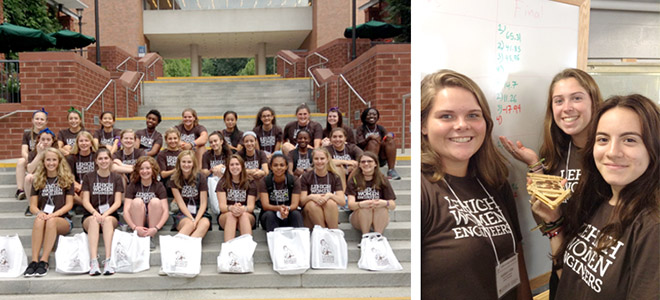 But perhaps most importantly, you will create the foundation to build a strong community among women engineers as you embark on this exciting new chapter of your life!
Highlights:
Participate in hands on activities in the various labs at Lehigh
Get a head start on making lifetime friends with your classmates
Meet the Dean and selected faculty members in the P.C. Rossin College of Engineering and Applied Science
Work with current women engineering students who will guide you through your Lehigh experience
Explore the areas within walking distance of campus 
Check out our website and follow us on on Facebook.
Cost: $225                       Capacity: 100
Minimum number of participants required for the program to run: 10
For more information contact Shaku Jain-Cocks at events.engineering@lehigh.edu.
---
Throughout Lehigh's history, student activism and advocacy has been a critical part of positive change. Join the Pride Center and Gender Violence Education & Support for this deep dive into understanding yourself, your community, and your ability to create social change through a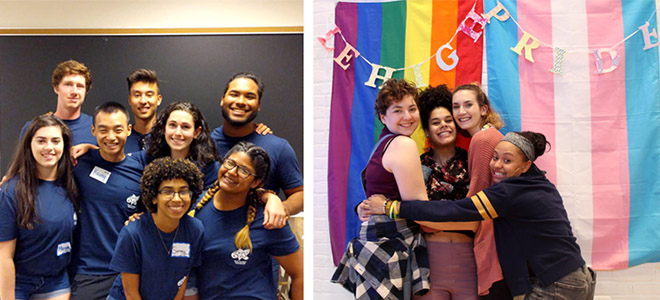 number of different formats. Our specific focus will be on work done in the realm of sexual health access, LGBTQ+ justice, gender violence education & prevention, & healthy relationships.
We will begin with a variety of activities on-campus to help us better understand ourselves, and then we will venture to Philadelphia. While in the city of love, we will engage in conversations with political leaders & community organizers, visit the Widener University Sexuality Archives, and explore art as an avenue for social change. Our last day will be spent in the Lehigh Valley with several local non-profit organizations. Through all of these activities, we will emphasize the broader themes of activism and advocacy, healthy sexuality, and community engagement. Come prepared to build relationships, learn about yourself and others and have fun!
Cost: $300 Capacity: 10
Minimum number of participants required for the program to run: 8
For more information contact Scott Burden at swb216@lehigh.edu
---
Do you enjoy being adventurous, meeting new people and being outdoors? If so, then OAP is for you! This program takes you into the great outdoors where you will spend your time taking day and night hikes, rafting down the Delaware River, playing paintball, riding a zip line, and developing new friendships. Day one, you will arrive on campus and drop off your belongings in your residence hall rooms before heading out. This trip will be completely off-campus. Participants will be staying at the Pocono Environmental Education Center (PEEC) with upper-class student leaders. While at PEEC, students will be housed in guest lodges, cabins, or yurts. This year, you will participate in Paddle, Battle and Adventure.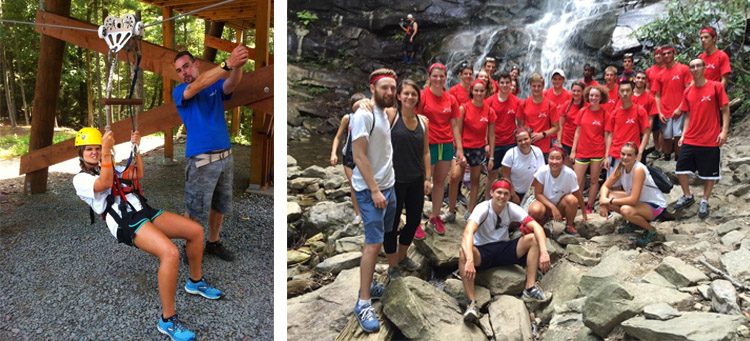 PADDLE: Rafting
Rafting on the scenic Delaware River, sunbathing, swimming and fun make this trip memorable. RAFTERS MUST BE ABLE TO SWIM.
BATTLE: Paintball
Kittatinny Paintball features exceptional mountaintop playing fields overlooking the beautiful Delaware River. Kittatinny's fields, featuring natural forests with huge boulders and bunkers, are designed to make each game exciting and fun! Paintballs are water-soluble, biodegradable and non-toxic. Everything you need is provided.
ADVENTURE: Zip Line
Take a ride on the dual racing zip line, one of the longest zip lines in the USA – over 3000 feet long. Soar 150 feet in the air overlooking the Delaware River. No special skills or abilities needed to enjoy this ride. If this adventure isn't for you, don't worry, there will be plenty of other activities to do.
Cost: $400       Capacity: 100
Minimum number of participants required for the program to run: 50
For more information contact Carter Gilbert at cag414@lehigh.edu
---
Are you fascinated by every new technology or startup innovation that hits the market? Do you want to change the world through solving problems creatively? Do you have dreams of starting your own company or business one day? Maybe you've already started a side-hustle in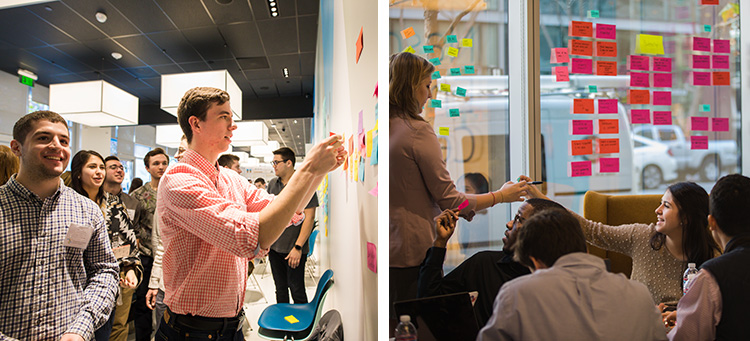 high school or have a notebook full of potential ideas.  More than ever, the world needs entrepreneurial leaders who have the passion and ability to take action toward solving the world's global challenges.
At Lehigh, many students explore entrepreneurship in addition to their major course of study, either as a minor or in co-curricular programs. This provides many students with the ability to think differently about their traditional education and design their future intentionally.
During the three day entrepreneurial preLUsion experience, you will learn about key aspects of entrepreneurship, develop your own business concepts, and test your strengths as an entrepreneurial leader. You'll leave knowing how to utilize your entrepreneurial mindset always seeing problems as opportunities.
Meet and learn from successful entrepreneurs
Tour startup ventures and co-working spaces
Put yourself in the shoes of an entrepreneur for a day
Introduction to the Creativity, Innovation and Entrepreneurship resources on campus.
This program will be led by the Baker Institute for Entrepreneurship.
Cost: $225           Capacity: 20
Minimum number of participants required for the program to run: 15
For more information contact Erik Hummel at eph315@lehigh.edu
---
Are you curious about the inner workings of environmental sustainability? If so, join the growing Lehigh community interested in sustainability. As part of the SustainabLEHIGH adventure, you will explore the Lehigh Valley through biking, canoeing, eating organic meals, visiting a farm and camping on our very own island. Not only will you have non-stop fun, but the learning experience and connections provide you with a strong foundation for future leadership in environmental sustainability initiatives at Lehigh.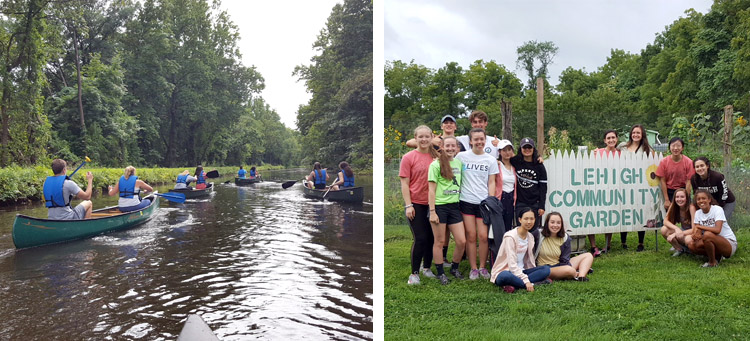 As part of this exciting three-day adventure, you will:
Meet like-minded students, campus leaders and sustainability champions
Camp on your very own island (seriously!)
Bike and canoe down the Lehigh River
Visit a local farm that free ranges their animals
Eat delicious organic meals
Learn about environmental sustainability-related clubs, classes, initiatives and campaigns
Also, visit our website, where you can find leader biographies, photos, and more program information: sustainability.lehigh.edu/SustainabLEHIGH
Cost: $315           Capacity: 15
Minimum number of participants required for the program to run: 10
For more information contact Katharine Targett kat516@lehigh.edu
---
Begin your journey at Lehigh through service! As a participant of VE, you will immerse yourself in three days of community service within the Lehigh Valley. During this time you will discover area agencies, take action to help alleviate issues facing their new community and build new but lasting friendships. VE is hosted through Lehigh's Community Service Office, which offers students a pathway to continue engaging in meaningful service through their four years at Lehigh if they so choose. All VE participants get the opportunity to serve at agencies in South Bethlehem and the surrounding Lehigh Valley.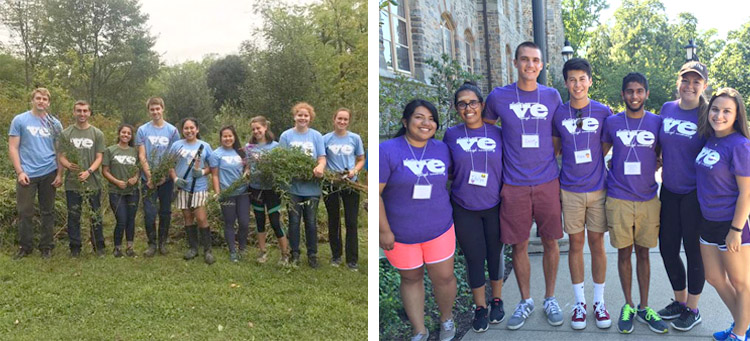 Some agencies include:
Feed the Children: Help put together food packages for children in the Lehigh Valley. Feed the Children provides food for children in a variety of programs!
Jacobsburg Environmental Education Center: Get your hands dirty while you help maintain and enjoy this environmental education center. Various activities may include: deepening park waterways to promote healthy aquatic life, restoring trails, removing invasive plants and creating habitats for indigenous amphibians.
New Bethany Ministries: Help organize and load a food bank on the South Side, and support an agency that helps committed families and individuals gain independence.
Victory House: Cook for or support an agency that provides homeless men, including veterans, with temporary housing and food assistance.
Bethlehem Area School District: Volunteer at elementary, middle, and high schools in the Lehigh Valley that follow the United Way's Community school model. Their mission is to be a resource to all in the community, not just students. This includes education, health, and social services.
Trips are led by community-oriented, upper-class students who are committed to providing you with the best first three days on campus you can have. Evenings are spent taking part in activities with your fellow volunteers that help you become acquainted to your new home and new friends.
Also, visit our website, where you can find leader biographies, photos, and more program information: lehigh.edu/service
Cost: $265              Capacity: 25
Minimum number of participants required for the program to run: 10
For more information contact Sarah Gelfand seg217@lehigh.edu