Welcome to Lehigh University!
We, the Office of First-Year Experience, along with Lehigh's faculty, staff, and student leaders look forward to welcoming you to campus. The Orientation program is the first of many experiences that aim to help in your academic and social transition to Lehigh. Orientation is your chance to meet your new classmates and the student Orientation Leaders (OL), learn about Lehigh's academic and social expectations, and have fun!
We have planned Orientation with three main learning outcomes in mind for students: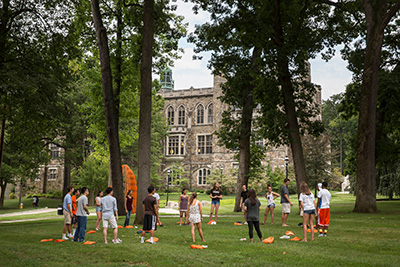 Build a support network of faculty, staff, and peers to aid in your transition
Expose you to academic and campus resources
Foster dialogue about the Lehigh community and the expectations of all community members
Below, you will find links with useful information to ensure your Orientation experience a successful one.
Fall Orientation
Learn more about our Fall Orientation program here.
Spring Orientation
Learn more about our Spring Orientation program here.