Interfraternity Council (IFC)
Website: http://www.ifclehigh.com/
Regardless of whether you are a parent, incoming student, or current student on campus I would personally like to welcome you to the Lehigh Greek Community. My name is Vin Albanese and I am the Interfraternity Council President for the 2019-2020 academic year. Lehigh University is proud to have one of the strongest Greek Communities in the nation and the 13 IFC chapters here at Lehigh certainly live up to that expectation.
Greek life is often portrayed negatively in the media today. However, there are so many positives that simply do not make the news. The fraternity men at Lehigh, are intelligent, driven and passionate members of the Lehigh family. Members are encouraged by their chapters to branch out and be involved in other campus groups. We are proud to have orientations leaders, peer health advisors, Brown and White writers and editors, and acapella singers just to name a few. 
Our fraternities are wonderful groups that help develop young men, and this is not done alone. In Lehigh's Office of Fraternity and Sorority Affairs we have an amazing new staff. They are bringing fresh energy and perspectives on Greek life and are already making a difference here on campus. Chapters have both alumni and faculty advisors as well. The connection to faculty and alumni is invaluable for our men, as advisors utilize years of experience to provide guidance. With the help and guidance of our advisors and Lehigh resources, men are pushed to be the very best version of themselves. We hold each other to high academic and moral standards, and introduce each other to new ideas, majors, clubs, career paths and people. Fraternities truly do become a family, and a home. They are phenomenal support systems. 
Joining a Greek organization can be one of the biggest and most influential decisions you'll make in your Lehigh experience. I encourage you to research, ask questions, and truly determine if going Greek is the best decision for you. It is also crucial that you find the right organization to join. Please feel free to reach out to me personally (vra220@lehigh.edu), my executive board, or to anyone in Lehigh's OFSA regarding any questions you may have. We'd be more than happy to answer them and we look forward to talking with you.
Welcome to Lehigh and welcome to our Greek community!
Sincerely,
Vin Albanese
Lehigh University Interfraternity Council President
Cultural Greek Council (CGC)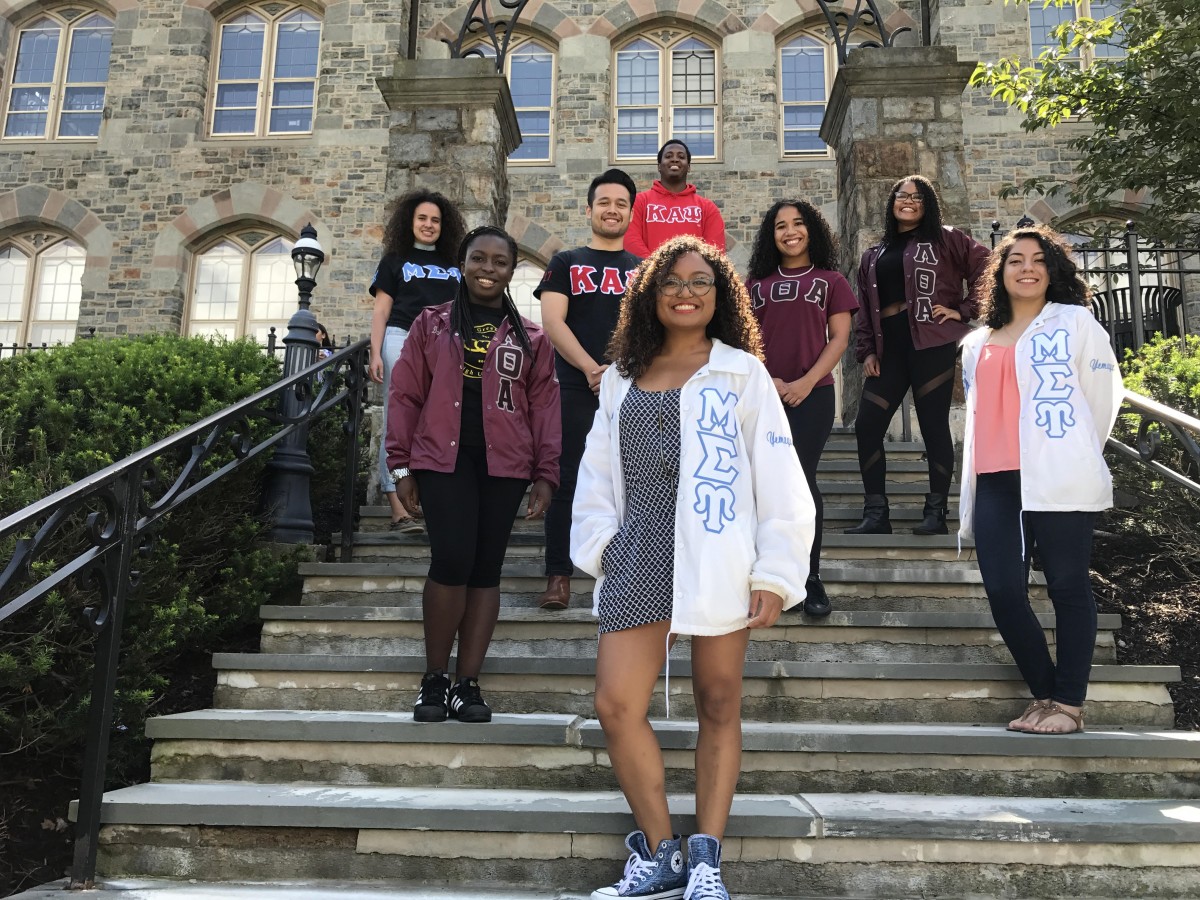 Website: https://lehighmgc.wordpress.com/
I would like to extend a warm welcome to everyone visiting the Lehigh Greek Community. Thank you to all of the parents, families, friends, students, alumni and more who have taken time out of their day to come. My name is Eliza Dent and I am the Cultural Greek Council president for the 2018-2019 academic school year. This council was established on Lehigh's campus in 2009 and currently has five chapters represented. These chapters include Kappa Alpha Psi, Fraternity Inc., Lambda Theta Alpha Latin Sorority, Inc., Mu Sigma Upsilon Sorority, Inc., Sigma Gamma Rho Sorority Inc., and Sigma Psi Zeta Sorority, Inc.
Lehigh is full of a vibrant Greek culture that makes space for a variety of students with different interests. As culturally based organizations, members of CGC strive to create spaces where people of color feel like their voices are being heard amidst a tumultuous social and political climate. We plan events that help students express their social and political identities, moderate discussions for students to share ideas for a more inclusive campus, and serve as a support system for students who have had some part of their identity oppressed in some way. All of our  members of our organizations are passionate about what they believe in, and are striving to better ourselves and the community we live in, whether it is through extracurricular activities, academics, or community service. Additionally, our members have strong pride in our organizations and continuously look for ways to strengthen our chapters.
The Cultural Greek Council prides itself on academic excellence and serving its community. The member organizations of this council have been founded at schools across the nation in response to social injustices that minorities in America have faced. Though each organization was founded on different grounds, we are united by our common commitment towards the cultural community at large. Though we stem from different backgrounds, we seek equity for our friends, family, neighbors, members, professors, employers, and all other people within our community. We value human rights and we fight for them.
Through our new member orientation process, we seek to help passionate individuals develop into strong and independent leaders. Personal and professional growth is encouraged and fostered for each individual. Due to the extensive alumni networks within our own organizations, as well as our connections to the larger Greek community, new members can find mentors who can help them achieve their professional goals. In turn, these members will likely serve as mentors in the future, creating a cycle of positive growth within our community. Entering Greek life on Lehigh's campus opens many opportunities for meeting new people and developing leadership skills. This is particularly true when joining a cultural organization considering we are smaller. Members have the chance to develop a wider circle of connections on campus and put their acquired leadership skills to use.
Being members of our organizations is an incredible privilege. We are all here at Lehigh University to pursue our education first, and graduate with our degrees. Even so, council members have chosen to join CGC because they believed that it would enhance their collegiate and professional livelihoods. We hold this privilege in high regard and know that our role within the community is extremely important.
Joining and participating in a Greek organization is hard work, but in my opinion, it's worth it if you find an organization that fits you. It can grant you many opportunities that may not have appeared otherwise and I personally have truly grown from my experience in Greek life thus far. I would like to sincerely thank you for taking the time out of your day to read this introduction into Cultural Greek life on Lehigh's campus. If you have any further questions, or would simply like to get to know some cultural Greeks, feel free to reach out to me at emd219@lehigh.edu or the other members of the executive board. Also, please feel free to reach out to any of the OFSA staff. Thank you, and I look forward to hearing from you.
Sincerely,
Eliza Dent
Lehigh University Cultural Greek President
Panhellenic Council
Website: https://lehighpanhel.squarespace.com/
Hello and welcome to Greek Life at Lehigh! My name is Morgan Gillies and I am the Panhellenic Council President for the 2019-2020 school year. Here at Lehigh, our Panhellenic Community is comprised of eight unique chapters. Each of these organizations contributes to our collective community in their own wonderful and positive way, and I am honored to be serving as the leader of this special group of women this year!
As the representative of one of the largest groups of women on campus, I understand the significant responsibility I have to help Greek Life adapt to the changing times. For this reason, I am so excited to share all of the amazing ideas our Council plans to implement this year, which include promoting unity within the Greek community and among the greater Lehigh population. This year, our Executive Board is excited to welcome Dana Teach into our newest position of Vice President of Access and Advocacy to help us make this aspiration a reality. This position exists to provide education to our Chapters and the entire Greek community about how we can best serve and make Greek Life more accessible to under-represented populations, such as people of color and/or those who identify as LGBTQIA. If you have any questions, suggestions, or concerns regarding this initiative or the role in general, please feel free to contact Dana at dmt220@lehigh.edu. 
Within this community of amazing women, we pride ourselves on individualism. You're never going to find just one type of person among Panhellenic women. All of our members make up a robust, diverse, and motivated group of people who are connected to something larger than their respective chapters. The majority of Panhellenic community members are involved in at least one other organization on campus, if not many more! You'll see our names and faces pop up writing for the Brown & White, playing on the Lehigh Athletics Teams, serving on the Undergraduate Senate, giving presentations for Peer Health Mentors, among many more! Joining a Greek organization provides individuals with a myriad of opportunities for personal and professional growth. Greek members have access to invaluable resources and alumna networks, additional leadership roles and opportunities, and special experiences of sisterhood and lasting friendship. As many of our members are involved in so many other organizations and initiatives around campus, you will be exposed to so many resources and information about how you too can get involved and actively participate in your Lehigh experience! If you choose to go Greek, you aren't just joining a chapter, you're joining a community - one that uplifts its members, holding each and every one to a higher standard academically, socially, and professionally.
My Lehigh experience would not be what it is without the encouragement and enrichment of this amazing community. My fellow Panhellenic women, in and out of my own organization, have celebrated me at my highs and supported me at my lows. I am so grateful to be able to give something back to this community that has given me so much. Please reach out to me with any questions, comments, or concerns at meg220@lehigh.edu. I would love to hear from you and offer more insight into this vibrant community!
Welcome to Greek Life!
All the best,
Morgan Gillies
Lehigh University Panhellenic Council President