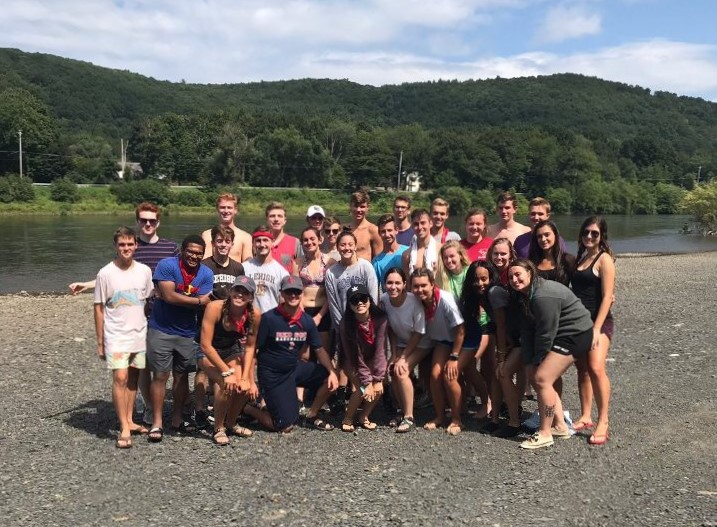 ARE YOU READY?
The Leadership Adventure Program is a preLUsion program for incoming students excited to get outside and explore the area of their new campus home, prior to attending Fall Orientation.   
This program takes you to the great outdoors on an unforgettable trip where you'll step outside your comfort zone, embrace the leader within you, and meet some of the best people who will help make your Lehigh experience truly amazing. 
Every year we offer exciting new adventures to go along with our timeless traditions.  Our Fall 2022 trip is still being finalized, but you can preview important information below! 
For more information contact Casey Gonzalez, Assistant Director for Leadership Education at cag422@lehigh.edu.
The EXPLORE Adventure kicks off our trip as we head to the Delaware Water Gap for hiking trails up and around Mt. Tammamy.  We offer hikes of varying difficulties (you'll get to pick the level you want to experience), and each option ensures picturesque views of the Delaware Water Gap along the PA/NJ border.
The BATTLE Adventure is a new tradition that pits the color teams against one in a Team Challenge another through some wet & wild challenges that range from relay race activities to grimy games. Prepare to get dirty while battling it out for the team victory!
The PADDLE Adventure has been a Staple for over 2 decades!  Whitewater rafting on the scenic Lehigh River, sunbathing, water gun fights, and a BBQ lunch make this trip memorable. RAFTERS MUST BE ABLE TO SWIM.
Though staff will be on-site for the Leadership Adventure Program, the trip is by-and-large led by trained student leaders.  Between the ~100 participants and 25 student leaders, you're sure to build bonds that will help your transition into Lehigh and last throughout your college experience! 
This trip allows for plenty of time to build these connections between the structured ADVENTURES, team builders, nightly bonfires, and free time.