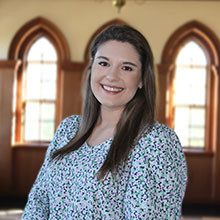 Graduate Assistant, Student Engagement
Christmas Saucon Hall, Room 337
Sabrina Carroll
Lehigh University, first year in Counseling Psychology PhD program
Lehigh University, M.Ed. in Counseling & Human Services '20
Washington College, B.A. in Psychology (Clinical/Counseling) '18
Started at Lehigh? August of 2018
What piece of advice would you offer Lehigh students on getting involved?
Getting involved can be a core piece of the college experience, including where you make friends and connections, as well as engage with your interests and discover new ones. Attempt to attend events and programs offered by our offices and clubs. In addition, allow yourself to practice self-compassion as you engage with Lehigh. These historical times, including, but not limited to, our sociopolitical system, racist violence, COVID-19, academic and social stress, and Zoom fatigue are all real and valid, and please allow yourself to take breaks in your engagement as wanted and needed.
What is your personal definition of leadership?
Leadership involves self-awareness of your own strengths, growth edges, as well as how to maximize your strengths and improve in areas of growth. Leadership is trusting yourself to show up for your team, calling on yourself, and calling yourself out when needed. It is maximizing and celebrating the strengths of team members, collaborating with team members in their growth edges and as you work on your own, as well as valuing and integrating others' viewpoints equally toward group missions and endeavors.