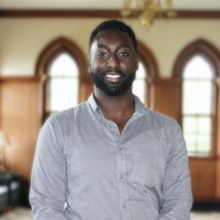 Assistant Dean and Director, Student Engagement
Christmas Saucon Hall, Room 335
Aarsenio Perry
Mississippi State University - Bachelor of Science, Educational Psychology/Counselor Education
University of Central Arkansas - Master of Science in College Student Personnel Services Administration
Started at Lehigh?
June 2013
What piece of advice would you offer Lehigh students on getting involved?
Look at involvement as you would rooms in house. Just like those rooms, involvement could represent different things, but all of those things are important and each room deserves honor. In this case find involvement opportunities that give you a sense of community and connection like a living room/den, that challenge you intellectually like those conversations in the dining room, that feed you emotionally and spiritually like the different flavors found in a kitchen, that renews your being like a fresh shower in the bathroom, and opportunities that make you feel well like a good night's sleep in a bedroom. With that you'll be sure to find some of your best friends, have some of the best conversations you ever could've imagined, and have fun while doing it!
What is your personal definition of leadership?
I used to have a long statement with fancy words but. where I am at now in life is 'leadership is caring deeply about all people and doing all you can to make life a little bit better for their existence on this earth'.